A Day in the Life of a Recruiter: Vincent Frankowski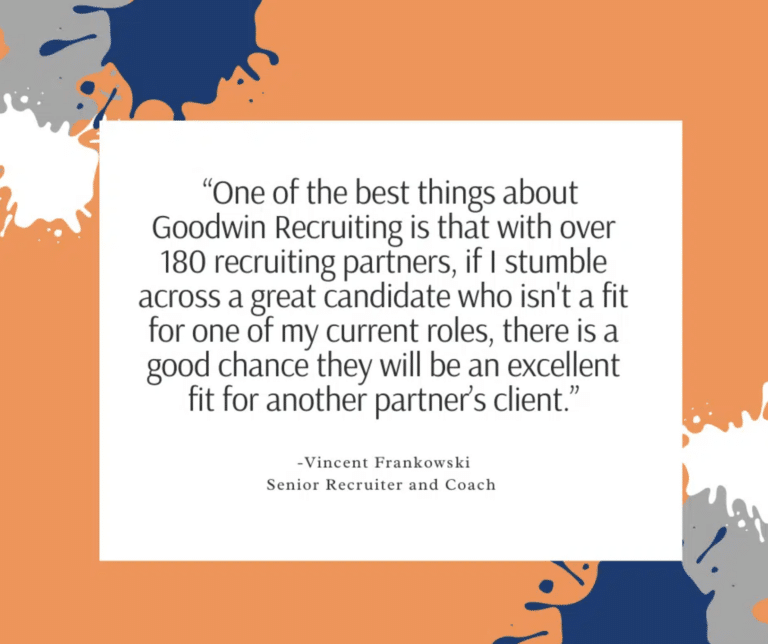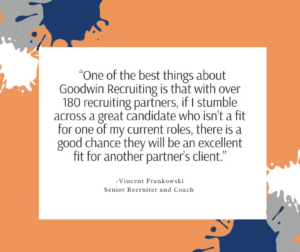 Hello everyone! My name is Vince Frankowski, and I'm a Senior Recruiter and Coach for Goodwin Recruiting. I live in the Brookhaven area of Atlanta with my wife, two daughters, and my dog. I attended Temple University for Business Management in Philadelphia and worked in restaurant hospitality operations for 22 years before making the switch to join Goodwin Recruiting as a Recruiting Partner three years ago. Before becoming a recruiter, I often wondered, "What does a recruiter do?" Today, I'm going to be telling you what a typical day in the life of a recruiter looks like.
6:30 a.m.: I spend my first hour of the day making my kids' breakfast and getting them ready for school. Since I work from home, I don't have to worry about a long commute into the office. It's nice to be able to spend some time with my kids every morning and see them off before I start my day.
7:30 a.m.: I power on my computer and start my workday. Every day, I sort through hundreds of resumes looking for candidates who might be a good fit for one of my clients. Having worked in restaurant hospitality operations for more than two decades, I've developed the ability to spot a promising candidate pretty quickly in a stack of resumes. Because I have built a strong business and we are in a hiring surge right now, I currently have anywhere from 40 to 60 open jobs that I am looking to fill for my clients.
I spend a few minutes every day building my LinkedIn network and sourcing passive candidates. Not every great candidate is going to proactively respond to a job posting. Many great candidates are not actively engaged in a job search but would be open to the right opportunity if presented.
One of the best things about Goodwin Recruiting is that with over 180 recruiting partners if I stumble across a great candidate who isn't a fit for one of my current roles, there is a good chance they will be an excellent fit for another partner's client. Many recruiting partners thrive on collaboration, and I can pass a great candidate along to one of my colleagues and still make a commission if my candidate is hired for one of their jobs. Goodwin Recruiting has thousands of open jobs at any given time across the country, so the opportunities are enormous!
10:30 a.m.: Today, I'm conducting some follow-up video calls with a couple of interesting candidates. These usually last at least one hour each and give me the chance to really understand each candidate's skill set, management style, and what's important to them in their next company. I ask in-depth questions to identify their leadership skills and previous accomplishments.
That's one of the key elements that sets Goodwin apart from other recruiting firms is the amount of vetting we do for each candidate. We don't just send over every applicable candidate; we make sure they're all matches in brand, style, and skillset. By the time we refer a candidate to our client, it's almost like they're on their second interview!
2:15 p.m.: I take a break to stretch my legs and walk the dog!
2:30 p.m.: I have an interview debrief with a candidate. I like to connect with all of my candidates and clients post-interview and get feedback from both sides. Talking to the candidate provides me opportunities to elaborate on any of their questions or give constructive feedback if they think something went poorly. Connecting with the client gives me further insights into their thought process and sometimes even highlights a new element of what they are looking for in a role that may not have been communicated before the interview.
3:00 p.m.: I'm hopping on a live Zoom training session for another Recruiting Partner. As a Coach for Goodwin Recruiting, I'm part of a support network to help foster the skills of our recruiters. We offer group trainings and one-on-ones that cover effective interviewing, resume sourcing, and other relevant topics to elevate the knowledge of our recruiters across the board. With offices across the country, it's exciting when we can put our heads together and share our knowledge and learnings. And as a Coach, watching a new recruiter take all the lessons and create their own style is very rewarding.
4:00 p.m.: I spend an hour or so connecting with my clients to discuss any candidates I've sourced for them and to get updates on where they are in the hiring process. I consider myself a consultative partner, so I always want to stay on top of their current and future needs and understand how their needs are evolving. This relationship-building leads to a deeper understanding and is crucial for supporting their growth and presenting the best people to help them drive their business forward. While every hiring manager can provide a recruiter with a job description, regular phone calls help me understand the company culture and other intangibles that help me present the role to potential candidates.
5:00 p.m.: That's a wrap on work for today. I typically end my workday anywhere between 5 and 6 p.m. And since today is a Friday, I'm looking forward to a weekend off with my family. I typically don't work on the weekends unless a candidate can only meet on a Saturday or Sunday. Having come from hospitality, I understand and respect the hours that hospitality professionals work, and I am always willing to make time to connect with a great candidate. I love the flexibility partnering with Goodwin offers. I'm able to be much more present in my kids' lives and bend my working schedule around them.
There you have it, a day in the life of a Goodwin Recruiting Partner. And while this was an average day, it's important to note that no two days are alike. Some days are filled with sourcing candidates, interviews, and learning about people's career paths and goals, while others are focused on client check-ins, consultative conversations, and building lasting relationships, but each day is filled with hard work.
Partnering with Goodwin Recruiting lets you be the creator of your own success. There're no restrictions on how many hours you have to work, but you get out of it what you put into it. And since we're looking for the best candidates out there, if you don't find them quickly, someone else will.
Working in the field of recruiting can be a roller coaster. Since candidates are people, not products, you can't just put them back on the shelf if the fit isn't right. There are ups and downs and many different personality types that you have to learn to work with, but when you make the match and get to call the candidate to let them know they just landed their dream job, it is beyond rewarding!
Learn more about joining our award-winning Goodwin team as a Recruiting Partner.