A Day in the Life of a Personal Chef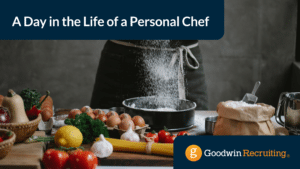 If you're interested in becoming a personal chef, there are compelling reasons to pursue this career. One reason is the dramatic growth in on-demand services (think job security). According to the American Personal & Private Chef Association, the current number of U.S. personal chefs is estimated at 10,000 and industry observers predict the number will double in the next five years.  
And for those considering hiring a personal chef, you might wonder what this wholesome, behind-the-scenes journey entails.  
Whichever side of the table you're on, here are some insights into the chef's workday to whet your appetite and help you understand the day-to-day activities of a personal chef.  
Personal chef or private chef – what's the difference?
Even though personal chefs and private chefs perform many of the same functions, and despite that these terms are often used interchangeably, there are distinct differences in their roles.    
Personal chefs

are self-employed specialists who run their own culinary operations and personal chef businesses. They have multiple clients, flexibility to arrange and work their own hours and schedules, prepare meals in advance, and leave instructions for clients. They cook for busy families, seniors, people with disabilities, and others lacking the time or ability to prepare meals for themselves. 

 

Private chefs

on the other hand typically have one client, often live at the client's residence, are usually on-call salaried employees, accompany clients on trips and vacations, and are sometimes members of household teams alongside butlers, maids, and other staff (Downton Abbey, anyone?). 

 
How do their days unfold?
A day in the life of a personal or private chef can vary greatly, and there are many avenues (and venues) where job duties can lead. Work can take place in a home with a large family or just one or two people to feed. It might be preparing meals for a sports team or a corporate event, or prepping meals on a yacht or private island – anywhere people gather to eat.  
Although day-to-day experiences can certainly look different for each chef, there are a lot of commonalities on their plates. Here is a general view of what a typical day could look like in the life of a personal and private chef:    
Menu Planning and Meal Preparation

: As personal and private chefs plan meals for the day, they discuss menu options with the client and take their input into careful consideration. Their primary responsibility is to prepare meals that cater to their clients' tastes, dietary preferences, nutritional requirements, and any specific health goals they might have. This includes knowing about a client's food allergies, dietary restrictions (vegan, gluten-free, etc.), or cultural cuisine preferences. Everything is planned with efficient time management in mind as chefs must often prep meals for several days in a single day. 

 

Morning Preparation

: This isn't just about breakfast! At the top of the day, chefs start by reviewing the day's menu and gathering necessary ingredients. They visit grocery stores or markets to find high-quality, fresh produce, meats, pantry items, spices and seasonings, and other ingredients. After grocery shopping, they ensure they have a clean kitchen and that everything is organized and ready to go, and then start meal prep, which involves chopping vegetables, marinating meats, preparing sauces or dressings, baking breads, and making desserts and other meal components.  

 

Cooking and Presentation

: Chefs focus on cooking each dish according to the planned menu. Personal chefs may prepare meals in the client's kitchen or their own commercial kitchens, depending on the arrangement. All chefs pay attention to detail, ensuring flavors are well-balanced and that the food is visually appealing, often incorporating various cooking techniques and using their culinary creativity to enhance the dining experience, whether they are sautéing, baking, roasting, grilling, poaching, or using other cooking methods. 

 

Serving and Cleanup

: Once meals are prepared, private chefs serve clients and personal chefs may leave instructions to make sure the food is served at the right temperature and in an elegant manner. During the meal, chefs may be available to answer questions, provide recommendations, or accommodate last-minute requests. After the meal, and depending on the arrangement, chefs clean the kitchen, wash dishes, and leave the workspace tidy.  

 

Menu Development and Administrative Tasks

: In between cooking and serving meals, private chefs often spend time on menu development and administrative tasks. They may research new recipes, experiment with different ingredients, and create innovative menus to keep things fresh and exciting. Additionally, they handle inventory management, pricing, and budgeting for ingredients. 

 

Special Events and Occasions

: Both personal and private chefs may also be responsible for organizing and catering for dinner parties, special events, or other occasions. This could involve planning and executing elaborate multi-course meals, working closely with event planners, and coordinating with other staff members.  

 

Food Safety and Regular Communication with Clients:

Chefs must adhere to strict hygiene and food safety standards every day, and regularly communicate with clients to stay on top of their satisfaction and evolving needs and preferences. The best chefs also stay up to date on the latest nutritional information and dietary trends to help their clients improve their knowledge, choices, and health. 

 
Tantalizing rewards for chefs and clients alike
The best part about being a personal chef or private chef can vary from one culinary professional to the next, depending on individual preferences and career goals. However, there are numerous personal and financial rewards. These include creative freedom compared to working in a traditional restaurant, working in fun and exclusive environments, building personal and direct relationships with clients, continually expanding culinary knowledge, and experimenting with new and challenging techniques.  
Each of these attributes translate to a client's delight – from the convenience of prepared meals to customized menus and diverse cuisines, a chef's culinary expertise, more healthy eating, time savings, and so much more. Some people hire personal chefs solely to learn how to cook and bake from an expert so they can become more self-sufficient and creative in their kitchens. But the most common reasons are either the need or desire for personalized, convenient, and high-quality culinary services.  
Come to our table for five-star hiring and chef jobs
Whether you're searching for a personal chef job or a private chef opportunity, or you're ready to hire your own personal or private chef, look no further than Goodwin Recruiting. We are specialists in hospitality industry recruiting.  
Contact us today. Our nationwide recruitment experts serve up the best chef jobs and culinary talent!