5 of the Best Methods for Young Chefs to Gain Experience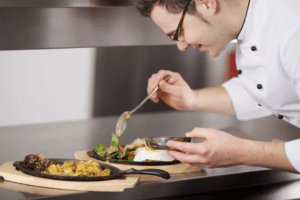 Chefs are highly respected professionals in today's world of culinary aficionados. Thanks in part to popular television programs and pop culture, more people than ever are interested in the art of fine cuisine. It's no wonder many new chefs aspire to one day work for a Michelin-rated restaurant!
The path to greatness doesn't come overnight. Below are five helpful ways young chefs can gain experience.
Chefs Should Cast a Wide Net
There are many different styles of cooking. How does a newer chef know if they want to work with pastries or run the kitchen of a five-star steakhouse? The range of fine food is vast.
Chefs who are looking for their niche should consider working for a variety of restaurants early in their careers. That doesn't mean they must "job hop." It is acceptable to consider a change after a least one year of work. Young chefs have time on their side!
Work for a Hotel
Restaurants at hotels are great for chefs who desire to work in fine dining. Many hotels are part of larger hospitality organizations, and this affords successful employees major growth opportunities. Even if a newer chef starts at the casual hotel café, they may later transition to the property's French restaurant or even transfer to another location.
Consider Apprenticeship
Not everyone can work for minimal pay. If a newer chef is fortunate enough to have few bills and low costs of living, they may be able to take advantage of that lifestyle to further their career. The initial sacrifice can pay off tenfold later down the road.
Cuisine is an art form, and it's common for artists to serve in apprenticeships for great masters. Anyone who gets the chance to learn from an industry-leading chef is afforded a tremendous opportunity. Once the experience is had, that apprentice can land a variety of top-level chef positions.
Enroll in Culinary School
This path to success is somewhat similar to the apprenticeship model. In other words, it's not for everyone. Culinary school costs money and doesn't pay the bills. However, it's great for the resume and can help a newer chef secure a terrific job.
Be a Small Fish in a Big Pond
Any novice chef who gets offered a food service position at a prestigious restaurant should jump on the opportunity. Being low on the totem pole is well worth the tradeoff of working for a world-renowned operation. Once a chef gets their foot in the door, upward mobility will follow.
First, they may gain promotion from within. Second, they may find an opportunity at an equally prestigious establishment in a more senior role.
Most successful people will attest that the path to greatness usually doesn't follow a straight line. There are steps forward and steps back. But newer chefs who aspire to work at elite restaurants do have ways to shape their destiny.
Find Your Next Career Adventure Today!
For the latest postings in your area, check out the Goodwin Recruiting Job Board.