4 Reasons to Improve Customer Service in 2022 – and How to Do It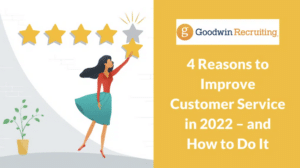 If you had to choose just a few essentials to prioritize over all others, would customer service improvements be one of them? We believe not just good customer service but great customer service is right up there with enhancing company culture to attract and retain talent and advancing products and services to keep and grow your customer base. These imperatives are the glue that keeps companies strong.  
Many organizations think their customer service strategy, representatives, processes, and tools are sufficient as they are. They don't realize deficits in this area, or failure to evolve, are disappointing loyal customers and hurting performance. A blind or neglectful eye here quickly erodes the bottom line in today's environment.  
Here are four urgent reasons why this area of operations must continue to improve:  
Expectations

: During the pandemic, customer needs, expectations, and demands soared and continue to do so. And thanks to rocketing reliance on online shopping and digital transactions, buyers have become experts in finding alternate sources for products, pricing, top-notch service, and fast fulfillment.

 

Loyalty

: Customer loyalty flew the coop during the pandemic. People moved away from their go-to brands and sellers due to availability issues, pricing, and service interruptions. Having found new sources and satisfaction elsewhere, they didn't come back.

Values

: Consumer values have changed. People want to buy from companies that hold and demonstrate values that resonate with their own. They gravitate to sellers that show ideals, ethics, and beliefs in messaging and throughout the customer experience process.

 

 

Technology

: Better technology differentiates winners from losers in the customer service realm. Integrated across operations, automation is the bedrock of great service and customer journeys, from traditional and online sales to supply chain management, order fulfillment, and ongoing customer service and customer relationship management. 

 
What's happening in the marketplace, and how can organizations begin to turn the tide toward profitability? 
Service levels are shifting in the wrong direction
Companies have barely had time to breathe while recovering from the pandemic, with enduring supply chain disruptions, a shaky economy, staffing shortages, and changing customer buying patterns and behaviors. Even though it has been a collective challenge like no other, challenges are part and parcel of being in business in the first place – and deepening customer service issues are making it harder for leaders to protect the business.  
Here are some leading causes of declining customer satisfaction and increasing attrition:  
Wait times seem to be increasing across a variety of industries. 

 

It takes longer to reach a real person on the phone (if a person can be reached at all). 

 

People are spending more time waiting in the drive-thru.

 

There are longer lines at the check-out register. 

 

Effective customer support and problem resolution are declining.

 
The list goes on!  
Companies that are determined to succeed know that the colloquial adage, "You snooze, you lose," is hyper-relevant right now. Following are many paths that customer-centric organizations are taking to stay alert, proactive, and competitive in winning at the customer service game.  
Make experience a top priority across your organization 
Companies that are truly committed to customer service excellence know this initiative must be a company-wide undertaking. It is no longer just the job of the marketing team! When all leaders and teams are actively involved in keeping customers happy, something interesting happens. The company essentially becomes a business of experience (BX) – one that prioritizes not only customers but also the employees and operations that serve customers best on a daily basis.  
"COVID has pushed experience further into the spotlight, accelerating its significance through every function and employee," says Brian Whipple, former CEO of Accenture Interactive. "Simply put, when you improve the experience, you improve lives, and in turn, you improve business."  
So, what does it mean to up your commitment to experience? Here are some imperatives.  
Restore the human touch by making it easy for people to reach you 
Research shows that consumers still prize human interaction. Companies' increasing reliance on automated call systems, chatbots, and other technologies should never minimize the all-important human connection between company and customer. This growing deficit is prompting consumers to take to social media to vent their frustrations with brands and products. Here's how smart companies are striking a balance between IT efficiencies and staying human:  
Provide a customer service phone number and email address that are easy to find and use. 

 

Answer phone calls and emails in a timely manner. Don't keep customers waiting.

 

Make sure your automated phone system prompts provide a way to reach a real person.

 

Respond fast to questions and issues raised through social media.  

 
Take a phased approach to digital transformation – and keep investing 
According to McKinsey & Company, rapid digitization and changing customer demands are creating an industrial revolution in services, and it looks like the changes are here to stay.   
Out of sheer necessity, most organizations were on some path, large or small, to digital transformation, especially e-commerce, before the pandemic struck. This helped companies adjust when the pandemic forced the need for contactless and remote service and transactions.  
Today, companies are continuing to deploy a combination of human, artificial intelligence (AI)-enabled, robotics, and digital customer service solutions to manage the delivery of services. Whether you are looking to enhance your current infrastructure or identify the best approach, consulting with IT specialists or onboarding professionals and team members to plan and implement your strategy will give you the flexibility to build your best customer service team.  
When you take a phased approach that is implemented over time, it is good for planning and your budget and gives you time to adapt to (and adopt!) emerging technologies.  
Aim for a strategic balance between IT and person-to-person interaction
Salesforce puts customer service automation into a solid perspective by distinguishing what can and can't be automated in customer service. Here are some of their observations:  
Automate this… 
Companies need to automate internal workflows to free up frontline service representatives from time-consuming processes. Workflow automation minimizes customer wait times and enables agents to manage tasks that require more human flair.

 

AI-enabled and field service automation solutions that respond to customer queries and needs deliver the same benefits, increasing employee performance and customer satisfaction. 

 

Self-service portals are growing in use and popularity among companies and consumers, respectively. These solutions provide customers with the information and tools they need without requiring human interaction. 

 
But not this…  
Five-star service

: Customers cannot be entirely served by automation. Identify tasks that require intervention between agents and customers to deliver the best results. 

 

Empathy

: Sometimes, customers in need require a human being who can make an emotional connection. 

 

The extra mile

: Never underestimate the ability of an employee to save a customer's day. Conversation, warmth, and kindness change things.

 
Listen to what your customers and employees are saying 
Keep your

team

happy. Happy employees equate to happy customers!

 

Invest in

business intelligence

to make decisions that are based on proprietary facts.

 

Collect employee and customer feedback to define what they want. Active listening is key to employee and customer retention.

 

Use feedback to identify areas of weakness or dissatisfaction and make positive changes.

 

Identify your strengths so that you can grow through new opportunities.  

 
The bottom line is clear: Customer service remains king
Consumers, whether they are individuals, professional buyers, or partners in your supply chain, are searching, finding, and staying with businesses that improve their lives and operations. All are looking for a satisfying and consistent experience – even if it costs more. Constantly improving customer service is essential to business survival today and in the future. 
Work with a professional recruiter to fill key job openings 
The hiring landscape is extremely competitive for experienced customer service talent, especially among professionals who know current technologies, how to manage teams, increase satisfaction, and drive a positive, measurable impact on performance. Now more than ever, you need a fully staffed team to capitalize on exceptional customer service skills and knowledge. When you hire the right people for the job, everything else will fall into place. Goodwin Recruiting is here to help.   
Looking for a CX job that requires your skills and gives you the opportunity to grow? Contact us for the most sought-after jobs with leading U.S. employers across industries.