2023 Trends in the Golf and Country Club Industry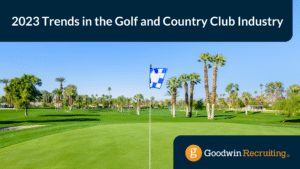 Whether you own or operate a golf club, country club, or private club, or you're a member or frequent guest of such establishments, you're seeing lightning-fast changes in how they operate. It should come as no surprise that technology is driving significant transformation, but there are many other trends and changes afoot and they're happening at a rapid pace.  
Here are a few of those solid, revenue-generating trends.  
More technology is being used across locations and enterprises
Golf clubs, country clubs, and private clubs are adopting flexible, customizable technologies on a broader scale today to enhance experiences and choices for their members and guests, and to automate mission-critical business operations.  
Some of these include GPS-enabled rangefinders, which give golfers accurate distance measurements to help them make better decisions in their rounds. Golf launch monitors use sensors to analyze ball speed, launch angle, and spin rate to help golfers improve their games. Swing analysis systems use high-speed cameras and motion sensors to analyze golf swings. Indoor golf simulator facilities are also on the rise, at existing clubs and as standalone establishments, to satisfy demand for places and ways to play golf regardless of weather. Each of these technologies and many more provide golfers with detailed feedback and insights to improve their games.  
For country clubs, as well as golf and private clubs, member engagement is being enhanced with modern member apps, which nurture interactions between the clubs and their members, resulting in greater loyalty and club advocacy. Full suites of club operations software tools are being adopted to help clubs automate all facets of operations to drive productivity, inventory management, member engagement and retention, and higher revenue for these member-based organizations. Business intelligence software is one of these tools, giving clubs the insights needed from data and analytics to make better decisions and grow.  
More females are participating in the game of golf 
Female golfers have been pegged as the key lynchpin for the future of the sport. As shared by the Keiser University College of Golf, in 2020, golf participation spiked primarily due to the pandemic, with golf providing a safe environment where social distancing was easier. Golf participation grew by 534,000 golfers over 2019, with women accounting for 451,000 of them. Women also accounted for 36% of all beginners in 2020, a 50% increase in the previous participation rate of 24.4% for U.S. women golfers.  
The growing female participation rate points to new horizons in the golf industry – and a death knell to the traditional golf culture as a male-dominated sport.  
More attention is being paid to environmental impact
Environmental awareness and sustainability are squarely in the sights of today's leading golf clubs, country clubs, and private clubs. They are making it a priority to become and remain responsible stewards of the environment, from water conservation methods to eco-friendly grounds and property practices, recycling initiatives, choosing organic and locally sourced foods and supplies, and tapping into renewable energy sources to power their establishments.  
Clubs are increasingly choosing to use organic fertilizers, environmentally friendly pest control, and natural landscaping to minimize the use of chemicals and promote biodiversity. This is all good news for mother earth, which is appealing to a growing number of consumers who show loyalty to operators who care about the impacts of fertilizers and pesticides on natural habitats and wetlands – and turn away from those who don't.  
More creative, intentional focus on what members want 
Clubs are going all out in delivering more products, recreational opportunities, and ease-of-use for existing and prospective members.  
These advancements range from customized golf equipment to tailored membership options, along with special events, social gatherings, special tournaments, and other activities that build a brand-sponsored community and create networking opportunities among members. Many clubs are upgrading their course designs to become more innovative, intriguing, and inviting to members. 

 

Clubs are also making golf and other club activities and amenities more accessible and inclusive to attract and welcome more people across demographics – and it's working. This includes expanding offerings to attract families and younger generations, and introduce health and wellness facilities and services, such as spas, massages, saunas, and steam rooms. And food and beverage units are introducing healthier meal options.

 

Dress codes are even becoming less strict. Proper

golf attire for men and women

has considerably evolved over the past several years, with the goal of attracting more people to the game – and this is working, too. 

 
There seem to be no limits to the new ideas, offerings, and creature comforts that today's clubs are introducing to revolutionize and expand the future of golf, golf clubs, country clubs, and private clubs – a thriving industry with a bright and promising future.  
Underpinning it all is hiring the right talent
While all golf clubs and country clubs have numerous job roles that influence operations and member experiences, each club typically has a unique brand, offerings, and approach to the market. All successful establishments know great employees are central to sustaining and growing their businesses. 
Understanding the importance of the customer experience, club owners and operators are paying much closer attention to who they hire for key roles. And today, every role is key, from a guest's first point of contact at the facility to front desk staff, grounds crews, event coordinators, membership directors, superintendents, food and beverage managers, restaurant managers, operations managers, GMs, club managers and everyone in between and beyond.  
Strike a relationship with an industry talent recruiting expert: When you need the right people for the job, Goodwin Recruiting is a trusted talent recruitment firm with a nationwide network of recruiting specialists and top job candidates with experience in your field. Our candidates are fully screened, experienced professionals who are up to date with industry trends, technologies, and best practices.  
Let us help you build a perfect team for your golf course, country club, or private club. Or, if you are an industry professional looking for the right opportunity, we can help you put some masterful swing into your job search!