What to Look for When Investing in a Company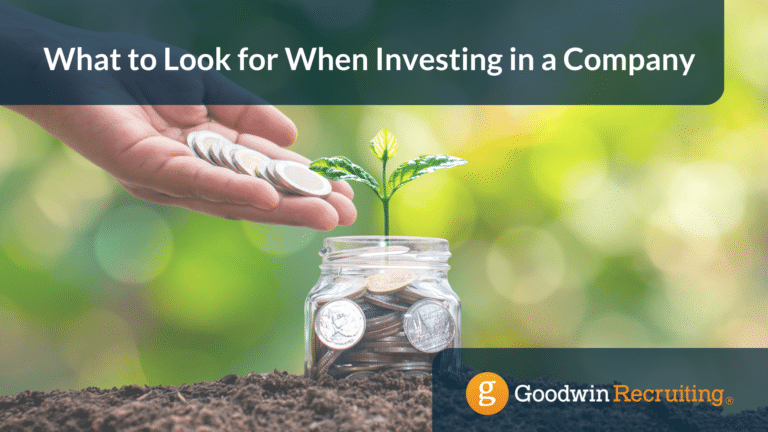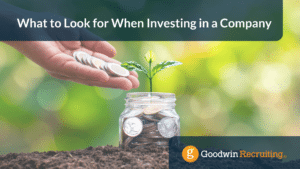 What are the key factors for finding success when investing in a company? Are they the performance metrics, financial instruments, market valuations, and projections used to make good investment decisions? Yes, and there are many more, but two specific dynamics may be the crowning jewels.  
One of those underlying forces is the caliber and know-how of the professional assessing a company of interest. The other is the caliber and know-how of the talent leading that company of interest (now, and in the future for investors who assume management of a company). All investment portfolios and management teams need the strength of top talent to grow the bottom line.  
Risk vs. reward starts with experience and track records  
Investing is both art and science. Those who invest in companies that grow in value and revenue are invariably the most creative and skilled in discerning and monetizing opportunities. They explore far beyond the requisite analysis of financial statements, financial reports, market data, and other elements of a prospective company's financial standing. They find great investment opportunities that are missed by others. 
Creative investors discover gems that are hiding in plain sight, such as a potential investment's intrinsic value, as well as companies that are not followed by Wall Street (also known as looking beyond the trends!), lesser-known firms with a solid dividend yield history, and successful entrepreneurs and private companies poised for explosive growth, IPOs, mergers, or acquisitions. Resourceful investors are also good at finding viable investment opportunities in which a startup or entrepreneur is looking for potential investors.  
The right talent makes the best investment decisions 
Before jumping into any new financial situation, the most prudent and farsighted private equity firms, venture capitalists, and other investors look for top talent first. They demand solid performance – the demonstrated ability to find promising prospects in the marketplace – and high levels of assurance before making investment decisions, knowing that once an investment is made, they walk a fine line between managing risk and return on investment (ROI).  
Such assurance is fronted by professionals who consistently vet and manage revenue-generating deals, and who use all tools at their disposal, including and especially their own deep knowledge and expertise.  
Advice for private equity firms and venture capitalists   
Some industry insiders call these talented investors a rare breed. It's true that the real rainmakers can be hard to find in today's complex investing world. This is why leading investors partner with executive headhunters, executive recruiting firms, private equity recruiting firms, and venture capital hiring experts. They do it to pursue good investments and to also line up top talent to lead organizations in which they invest.  
As one of the nation's top executive and professional recruiting firms, we can tell you that competition is indeed high for the best of the best in investment expertise and executive leadership. But once you have these leaders on board, you have the caliber of talent needed to conduct superior due diligence and marshal the insights, metrics, and management skills used in the art of successful investing and organizational governance.  
What's at the core of every pursuit?  
Private equity investors and venture capitalists dig into a lot of information and background on a company of interest. The order of approach varies, but these areas are usually investigated first – and thoroughly:  
Company History, Business Model, and Track Record  
What is the company's role in the market?

 

How many years have they been in business?

 

What are their competitive advantages and what is their share of the market? Who are their competitors and their market share?

 

Have the company's offerings successfully evolved or expanded over time?

 
What are the company's past, current, and projected employment statistics?

 

Does the company have an acquisition or merger history? Were they ever acquired or have they acquired or merged with other entities, and if so, were the transactions successful?

 

What is their business model? Do they adjust their model as necessary to compete more effectively or enter new markets?

 

Has the company been agile in transforming its operations, IT architecture and technologies, and doing business in increasingly better and more effective ways?

 

Does the company have a consistently successful performance track record that's likely to continue? 

 
Company Financials: 
Does the company have a healthy debt-to-earnings ratio?

 

Is the company profitable?

 

Are profits trending in the right direction?

 

Do they consistently generate a positive ROI and return on equity (

ROE

)?

 
Do their financial statements (balance sheet, statement of income, statement of cash flows, statement of retained earnings) confirm overall financial health and the company's underlying value? 

 
Company Leadership and Core Values: 
Who makes up the board of directors, C-suite, executive team, and management team, and what is their experience and track record in moving the company forward – as individuals and a cohesive leadership team?

 

What is their business plan? Does the company's leadership prioritize business and brand strategies that are based on data-driven analytics for making decisions and capital investments, financial planning, and pursuing growth initiatives?

 

What are the company's core values, and does their leadership truly reflect those values? Do their values align with yours? Do their values and beliefs align with their role and purpose in the market, and do they resonate with the company's employees and customers?

 
Look for industry-specific expertise  
Today's top private equity firms and venture capitalists have well-defined investment portfolios and a solid pulse on market trends that impact the opportunities they seek. Goodwin Recruiting responds to investors' talent acquisition needs by specializing in recruitment across all major industries. Our executive and financial services recruiters include private equity recruiters and venture capital executive search experts, and we maintain connections nationwide to each industry's inner circle of talent. 
Reach out to our team of executive recruiters today to find the right talent for your team.