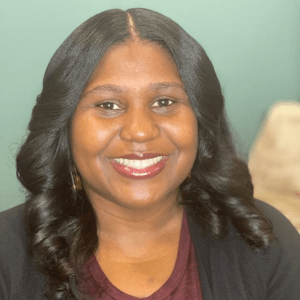 Shanna Stevenson-Santiago
As a Marketing and MBA graduate, Shanna has made quite the name for herself, serving in Marketing and Sales Executive roles in Atlanta, GA. However, she found her true passion through a later transition into the recruiting world, which was suggested to her by a university friend. Now, with over 10 years of recruiter experience, Shanna has gotten to share in the joys of creating significant life changes in the lives of so many. She says the best part of what she does is really getting to know her candidates and clients through transparent and thorough conversations. As a result, she is then able to do what she does best!
Shanna's own personal experiences through life and living abroad (which is how she met her husband) allow her to connect with her candidates on a deeper level. On the client side, this also allows her to form long-term, trusting partnerships. She still finds herself continuously inspired by those she has the pleasure of meeting and working alongside.
Her favorite things to do are to travel, help others experience and create their own travel memories, try out new restaurants, and use her creative juices in many different ways. Her days at home are filled with the daily adventures of being a wife, mother, and contributor to society.
She is happy to have found a home at Goodwin, surrounded by so many colleagues who are so good at what they do. Shanna brings her own experiences and flair to the Specialty Division of Goodwin Recruiting, where she is ready to establish more relationships with congruent clients and superstar candidates. Nice to 'meet' you!
- Executive Search Client
"Honest in their approach"
- Financial Candidate
"One of the BEST experiences I have had"
- Hospitality Candidate
"Rapid delivery of candidates"
- Hospitality Client