Opinion: A Jobseeker, a Divorcee, and a Panda Walk Into a Bar…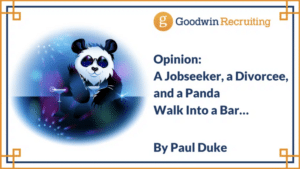 The panda quickly orders a beer and some wings, then sets a revolver on the table. If you're a stickler for punctuation, you know the rest. But what about the other two? They're probably still perusing the menu and will likely head out before the panda can pull out his badly punctuated wildlife manual to explain himself.  
Everybody navigates interactions, relationships, life, and work with their own habits, perceptions, and expectations. When circumstances are unsatisfactory or become uncomfortable, the tendency for many is to move on.  
A recent Grant Thornton study shows that among the more than 20% of American workers who switched employers in the last 12 months, 40% are actively looking to move again. That is a noticeably higher number than the 29% of all full-time workers who are actively looking for a new job.   
Anecdotal evidence aligns with recent statistics
In my office, we speak with dozens of job candidates every week who are currently employed but on the hunt for something else or a different type of job altogether. Gone are the 2020 days of waiting at home for the next great opportunity or job offer or dream job; virtually all are working, and nearly half took a role in the last six to 12 months but didn't find what they were looking for. The job search continues.  
As with jobseekers, satisfaction among marital partners also seems to decline in subsequent arrangements. While the divorce rate for first marriages is around 50%, more than 65% of second marriages and almost 75% of third marriages also end in divorce cases.  
What do the two groups have in common? And why is it easier to take a leap of faith after the first jump? Here are some similarities and reasons:  
They got the t-shirt:

 Going through the stress of a job change – or divorce – removes prior uncertainty and teaches the survivor that the unthinkable is now thinkable. When the going gets tough again, that once-feared option is now just another option. As Tim Glowa of Grant Thornton

suggests

, job seekers made the switch once, and it was easy, so they're willing to do it again.

No scarlet letter:

 Almost 50 million of 2021's 152 million employees changed jobs, generating plenty of social and moral support for those who jumped. As with historical divorce rates, rising rates of unemployment and employment changes have created a broader awareness and acceptance than in previous generations. This means not only is the jobseeker more comfortable in making the change, but their social support system is more accustomed to it as well.  

 
What are they still looking for this time around? Is it earning capacity? Sure, money (especially personal debt) is often blamed as a contributor to job changes (and divorce), but despite noticeably rising wages in today's employment opportunities and readily available pay data, more than 60% of job candidates are content to take the same or a lower salary to pursue things money can't buy.   
Purpose and fulfillment. Joy and happiness. The type of people we spend time with and our life balance. These are ideals we all strive for, and no matter where we hang our hats, we must learn how to provide them for ourselves. A new set of clubs won't fix our swing. Glowa points out that both workers and businesses share responsibility here.   
Relevant words of wisdom from marital counselors
I share advice like this with my candidates on the eve of their first day of new employment. I let them know they have an ear to listen and a shoulder to cry on whenever they need it. But communication is always a two-way street. I recommend these same things to the hiring managers and business owners I work with, who appreciate the ongoing relationship and my belief that their turnover rate is almost never the best option or outcome.
Don't bring unhealthy communication and self-leadership with you

:

A new job or relationship is an opportunity for a new set of surroundings, but wherever you end up, that's where you are. Don't miss a chance to inventory your own contributions to your circumstances. Change yourself, too.

Set realistic expectations

:

Rose-colored glasses never really make anyone's day rosier. Ask questions, know what you want, and be honest with yourself and those around you. If you do, you may find your skies are blue after all.

Manage conflict and forgiveness

:

Things will come up. There are going to be bumps in the road. Misunderstandings, changes, and disagreements are all a natural part of life in any relationship, personal or professional. Anticipating them and smoothly navigating them can make things much easier to forgive and forget and ensure the ride is smooth for everyone.  

 
Reach out and trust someone
Just like a counselor can be invaluable in helping to navigate the complexities of marriage, an independent recruiter can be a trusted resource of empathy and support for employers and job seekers alike. We walk alongside you through your frustrations and help you find answers to difficult concerns and challenges.  
There's a big menu to satisfy every individual and employer in talent recruitment, and we can help!