Is an Executive Recruiter the Right Talent Solution for Your Business?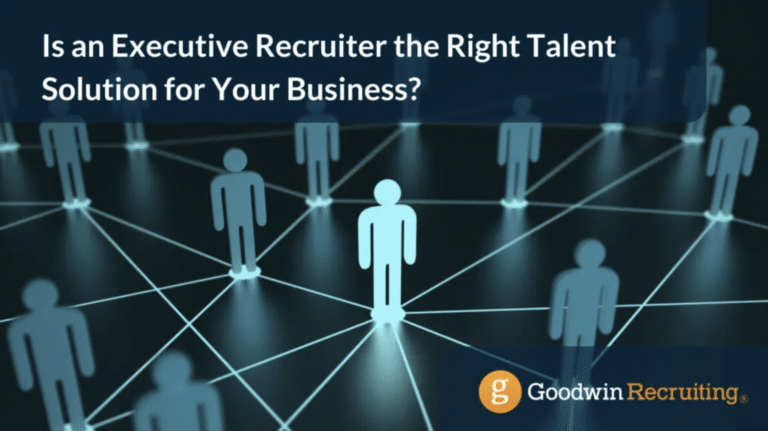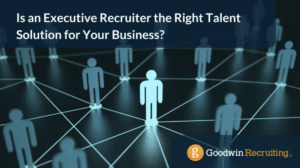 Top leadership roles are the most critical positions at a company and can also be the most challenging to fill. When there's a void at the top, not just any executive hire can step in and take the reins. At times like this, companies need access to the most talented professionals – including and especially passive candidates who are currently employed but open the right opportunities.  
Organizations that conduct their own talent recruitment efforts know that searching for the right executive, C-level, or management candidate can take months or even years. Meanwhile, teams are left to navigate without direction. This is not an ideal position for a company to be in today, when the daily rhythm of business continuity must remain steady, strong, and 'on mission.'  
Is it time to be proactive? It's likely that your board or executive team has faced this challenge (or will) at some point. If you have never partnered with an executive recruiter, explore the benefits and consider striking a relationship with an executive search firm now so that you're prepared when the need arises for the best talent.  
Your four greatest challenges are our four greatest strengths 
When companies need C-level, executive, and full-time management talent, they turn to executive recruiters for a lot of reasons. Their four primary motivations are noted below. However, the overarching reason hiring companies partner with us is because executive recruitment is a specialized and dedicated field unto itself. Just as heart patients need counsel from a cardiologist, companies with open leadership roles are vulnerable and in need of a specialist with the knowledge, experience, discipline, and resources to keep their operations healthy and flowing in the right direction.  
Reason 1: Evergreen talent pipeline
In a perfect world, companies have plenty of notice and time to find qualified candidates to replace an outgoing CEO or other C-suite member – or their president, vice president, division head, or senior-level managers. Unfortunately, it rarely happens that way. Unexpected and untimely departures are more the norm. The best thing to do when this happens is tap into a large talent pool with qualified, vetted, and available leadership candidates. The challenge is that even the largest in-house HR departments don't have nationwide access to databases of high-level talent, including passive candidates who are out of reach to most companies – but not executive recruiters. For this reason, executive recruiting firms are the unrivaled go-to resource for current, accurate, and abundant access to today's top talent.  
For the history buffs out there: Many people don't realize why sourcing executive talent is in the DNA of recruiting firms. Headhunting companies became prominent after World War II when the workforce really started to grow. Traditionally, headhunters worked exclusively to make placements for full-time, executive positions – and they worked with and for job seekers. Years later, the strong economy of the 1970s led to a shift from working for the employee to working for the employer, and large corporations began outsourcing their hiring efforts to recruiting companies. Firms continued to evolve and now assist companies in filling a vast range of full-time, management-level roles across all industries. 
Reason 2: Extensive, precise, and efficient search processes – with a sense of urgency
When you work with a recruiter to fill a key leadership role, the firm should focus on your specific executive candidate needs and your company culture, and work quickly and efficiently to ensure the right candidates do not slip through the cracks. At Goodwin Recruiting, we know your time and hiring timeline are of the essence. Our approach to retained executive search is a rigorous recruitment process that takes complete ownership of the complex and extremely time-intensive aspects of talent recruitment. For every candidate we submit to you for your consideration, hundreds of resumes have been reviewed, dozens of prescreens have been conducted, and the best matches have received full, live interviews by a recruiter who is not only an expert in your industry, but also possesses in-depth knowledge of the skills, experience, and leadership traits that are needed to be successful in your company and role. 
Reason 3: Industry-specific expertise and valuable market intelligence
Talent recruiters are not only experts in talent acquisition and retention, but also in specific industries. Their knowledge and experience help companies zero in on professionals who already know and are successful in their industries and lateral markets. Recruiters can also give you a rundown on the competitive landscape, and a bird's eye view into your industry's current talent landscape, including information about salaries, benefits packages, and other hiring incentives that can make your company more attractive and competitive in the hiring market. They can also help you fulfill your hiring goals in meeting diversity, equity, and inclusion requirements. 
Reason 4: Confidentiality, transparency, and support from search to negotiations and hiring
In a true spirit of partnership, recruiters of integrity understand and diligently protect the confidential nature of the talent recruitment and hiring process. They serve as an extension of your human resources team and are fully transparent with you as they work to find the talent you need. This involves providing you with regular, consistent updates on where they are with your search, the number of candidates they are vetting on your behalf, and any research and data they uncover that's pertinent to your executive search. Recruiters perform the required legwork on your behalf by communicating directly with candidates to schedule interviews with you, present your offers of employment, serve as a liaison between you and a candidate to negotiate an offer, and inform candidates that you may reject.  
Not all executive recruiting agencies are created equally
The best executive recruiting firms never abandoned the historical roots of our industry and it's why we lead in talent recruitment. We know our greatest strength is found in the candidates we bring to your table in your time of need. At Goodwin Recruiting, this is the reason we prioritize, value, and nurture our relationships with candidates and clients on an equal basis. We work hard every day for companies and job seekers alike to help them find success. In matching great talent with great companies, our goal is for everybody to win.  
From the C-suite to vice presidents and other senior executives, we know what top leadership looks like. Here are some of the C-suite and executive roles we fill for today's leading companies in finance, private equity, senior living, healthcare, hospitality, operations, industrial, professional services, and many other industries:  
Chief Executive Officers

Chief Operating Officers

Chief Financial Officers

Presidents

Chief Human Resource Officers

Chief Marketing Officers

Chief Revenue Officers

Vice Presidents
Get in touch so we can help you find the next leader to drive your business forward.