I Encourage You to Get Involved in World Humanitarian Day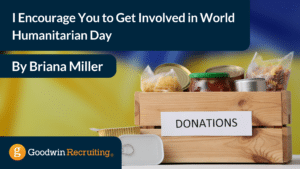 For talent recruiters, helping others is in our DNA. It's why we do this work and why we're good at it. This inherent trait includes wanting to bring greater awareness to humanitarian work and the people who commit their time and lives to it. Understanding the significance of humanitarian workers around the globe is something that needs to be more widespread because it takes a village!  
August 18 is World Humanitarian Day, an international day of observance dedicated to recognizing humanitarian people, humanitarian actions, and those who lost their lives on the front lines working for worthy causes.  
It is increasingly important to recognize and honor the work being done to help vulnerable people and areas experiencing humanitarian crises, whether these emergencies are happening here in the United States or elsewhere in the world.  
How this day began and why it matters more than ever
According to the

United Nations website

, "On 19 August 2003, a bomb attack on the Canal Hotel in

Baghdad

,

Iraq

, killed 22

humanitarian aid workers

, including the UN Special Representative of the

Secretary-General

for

Iraq

, Sergio Vieira de Mello. Five years later, the

United Nations

General Assembly

adopted a resolution designating 19 August as

World Humanitarian Day

(

WHD

)." 

 

According to the United States Agency for International Development (USAID),

a record 235 million people in 36 countries

required

humanitarian assistance

in 2021.

Climate change

,

natural disasters

, the COVID-19

pandemic

, and continued conflicts increase the likelihood of these crises and humanitarian aid is needed more than ever. Humanitarian aides put their lives on the line to help others, risking injury, kidnapping, and even death, and often do so without recognition for their heroic efforts.

 
We can all help to make a difference
If you're wondering what you can do to celebrate and recognize World Humanitarian Day in 2023, I have some suggestions:   
Do your research! Learn more about what this international day celebrates and why

humanitarian action

is needed. 

 

Donate to a reputable humanitarian organization or cause. 

 

Get involved: There are ways to support

humanitarian needs

through your own community. 

 

Spread the word: Help make others aware of this important subject and the urgent need for continued efforts and recognition of those efforts. 

 
I highly recommend that you visit the National Today website to learn more about the history of World Humanitarian Day and the different ways you can make an impact, no matter how small.  
At Goodwin Recruiting, we are dedicated to diversity, equity, and inclusion (DEI) as one of our core values. We appreciate that "Humanitarian principles define what humanitarian aid is: delivering life-saving assistance to those in need, without any adverse distinction…such as those of a political, religious, ideological, or military nature."