Goodwin Recruiting Is Dedicated to Diversity and Inclusion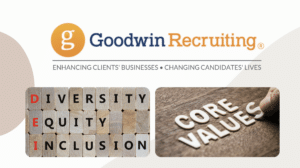 In June of 2020, Goodwin Recruiting added "Dedicated to Diversity and Inclusion" to our Core Values. We realized that it wasn't enough to have personal beliefs that support equality and diverse representation. Our Core Values have always been extremely important to us, but also actionable. As soon as we made this addition to our list, an action plan came with it.
We set out to join the movement around the country in an effort to listen and learn, and to become alert and engaged. We could feel the palpable sense of urgency to finally acknowledge and address the issue of systemic racism in our society, and we were moved by the outpouring of emotion. We were decisive in anchoring ourselves in the moment to make diversity and inclusion and the fight against racism a top priority immediately, but also for the long term. We can never let the passion, energy and focus die down – we have to go after permanent change tenaciously. That is why we engraved it into our set of Core Values where we know it will always live and breathe and direct us to action.
Our list of actions will grow and evolve, but we took some initial steps to ensure Diversity and Inclusion efforts extend to the roots of our processes:
We founded a Diversity & Inclusion Committee which includes a rotating group of our recruiting partners alongside members of our leadership team. All voices and ideas need to be brought to the table for discussion from every level of our organization.
We adopted changes in our internal recruitment efforts to ensure our beacon is set up to attract a diverse audience. We evaluated our recruiting partnership platform to achieve our goal of creating an opportunity that offers an equal chance for success for all.
We extended our commitment to diversity and inclusion to our outward facing communication and consultations with clients and candidates. As a conduit between these groups, we want to be at the forefront of educating others and encouraging transparency in both hiring practices and getting tangible results.
We have never been complacent in pursuing our company's mission of "Enhancing Clients' Businesses and Changing Candidates' Lives", and we are eager to make an impact above and beyond making placements. We are seeking the chance to make a difference and help shift the paradigm forever by holding ourselves and those we partner with accountable to doing what's right.
Our founder, Eric Goodwin, often says, "We are all united in our success." We fully understand that we can't define what we have as success until that opportunity for success is present for all in an equitable way.
Our Core Focus is to Be the Recruiting Company of Choice for our Partners, Clients, and Candidates. We welcome any feedback you'd like to share on how we can do better, especially as it pertains to the integrity of optics and actions regarding diversity and inclusion. Transparent communication is accepted by phone or email with our Vice President of Recruiting, Allegra Highsmith.
Phone: 513-258-0421          Email: ahighsmith@goodwinrecruiting.com