Celebrate National Volunteer Month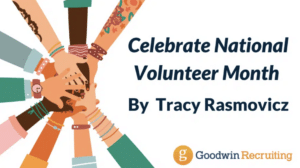 April is National Volunteer Month – a month dedicated to recognizing the importance of volunteering and honoring the significant contributions volunteers make by donating their time and talents to worthy causes.   
Why volunteer? 
Volunteering is a great way to give back or make a difference in someone's life. It brings people together and strengthens the community in which you live. And it helps you gain professional experience. I can personally attest to the power of volunteers – earlier in my career, I was a member of my local Jaycees. Helping with volunteer programs provided me the opportunity to receive business development, management skills, and leadership training while positively impacting my community. Today, I am an active member of the Sheboygan County Chamber of Commerce and volunteer my time as an ambassador.     
Tips for getting started volunteering
Find your passion.   
Is there something specific that you have fun doing? Mentoring, tutoring at a local high school, helping at an animal rescue shelter, serving in a local soup kitchen, adopting a highway, donating food to a local food pantry – the opportunities are endless. If you find something you enjoy while you're helping others, it's a win-win!  
Find something local.   
There are so many great organizations and nonprofits in need of your help. A simple way to learn about these organizations is through your local paper, United Way, social media, or searching the web for "volunteer opportunities near me."  
Stay involved.   
Don't make volunteering a one-time thing! Even though April is National Volunteer Month, and specifically April 10th-16th is National Volunteer Week, volunteer service is excellent for your well-being and an amazing thing to make an integral part of your life.   
Our team at Goodwin Recruiting loves to volunteer. We made this fun video to show some of the ways we're helping in our local communities. Check it out and see if it gives you any ideas for volunteer projects in your local area!