An Interview with Mickey Bakst, Co-Founder and Executive Director of Ben's Friends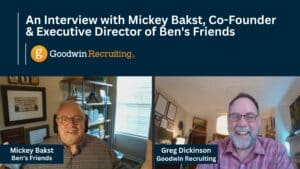 The food, beverage, and hospitality industries are known for their high-stress work environments and long and irregular hours. They rank among service industries with the highest proportion of workers who experience substance use disorders (SUD).
If you, your employees, friends, or family in these industries struggle with addiction, watch this interview with Mickey Bakst, co-founder and executive director of Ben's Friends. Ben's Friends is a thriving, nationwide support group offering hope, fellowship, and a path forward for professionals in the food and beverage industry who struggle with addiction.
Speaking from first-hand experience, Mickey dives into unique challenges people face and how Ben's Friends works to open employer minds to helping and supporting employees dealing with addiction. Mickey and fellow co-founder Steve Palmer created Ben's Friends in honor of Ben Murray, a lifelong chef who took his own life after years of struggling with alcohol use disorder. Mickey and Steve have nearly 60 years of combined sobriety between them and are proof that professionals can live full, rich, rewarding, and sober lives while working in restaurants and hospitality.
The interview is conducted by Greg Dickinson, senior recruiter with Goodwin Recruiting. We are a leading U.S. talent recruiting agency that specializes in the hospitality industry, with a firm commitment to diversity, equity, and inclusion (DEI) in the workforce.
Learn more about Ben's Friends: Ben's Friends is a community of chefs, bartenders, line cooks, servers, sommeliers, hosts and hostesses, general managers, and owners who have found or are seeking sobriety.
Find a Ben's Friends online or in-person meeting: Online and in-person meetings are open to anyone interested in sobriety and support.
Learn more about Goodwin Recruiting and our commitment to diversity, equity, and inclusion.
Contact Senior Talent Recruiter Greg Dickinson for access to top restaurant and hospitality talent. Greg has more than 25 years of hospitality operations experience and is passionate about making the right connections between clients and job candidates.