8 Steps in Creating Urgency to Win the Best Talent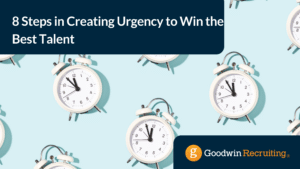 Listen (6:09):
After a persistent two-year trend, 2023 remains a candidate-driven hiring market. Greater determination and finesse in your recruiting process are more important than ever and crucial to successful talent acquisition. There is a need for a sense of urgency because the top-quality candidates you're hoping to attract will likely have multiple job offers.  
How can you increase the odds that the best candidates will choose you? We have answers. One of the greatest deterrents to successful hiring initiatives is that interview and hiring processes take too long. This causes employers to lose out on talented individuals to companies that are leading change with more efficient and expedient methods. Losing good candidates this way is never ideal, especially when there is limited time to fill an important role. 
Creating the sense of urgency is fairly easy in effecting short-term wins. Sometimes it involves a bit of change management, buy-in from team members, some problem-solving, and the initiative of key HR stakeholders, but rewards are quickly realized by moving away from the status quo. 
Here are 8 steps you can take to embrace urgency and generate short-term and ongoing improvements in your ability to acquire the best talent.   
1. Create clear and simple job descriptions

 

 

Candidates are increasingly looking for short yet specific job descriptions. Step 1 in arriving at more concise descriptions is to delete unnecessary items and keep it to the point – job title, key responsibilities, qualifications, growth opportunities, benefits, and salary range. Here's a great guide on how to create good job descriptions for the current times.  

2. Establish a consistent and streamlined interview process

 

 

A structured interview process with predetermined questions should be used for each job opening. When interviews are conducted based on the same criteria, it's much easier to objectively compare all candidates' attributes. Have a back-up plan for members of your hiring team if they're out of town or on vacation. Try to streamline your interview process as best as you can and review it on an ongoing basis to improve both your approach and the candidate experience.

3. Use virtual interviews for getting-to-know-you meetings

 

 

Both one-on-one and team interviews conducted via Zoom or other web-based video platforms save time and energy for HR team members and hiring managers. Virtual interviews offer far greater flexibility in scheduling (a time-consuming effort) and result in your ability to meet and screen a larger number of candidates. This greatly reduces time-to-hire. In-person, face-to-face interviews are more important for secondary interviews and later in the hiring process.   

4. Provide timely feedback to job candidates

 

 

To avoid losing good candidates, keep job seekers engaged. Stay top-of-mind by keeping candidates informed about the status of their applications. Be sure to acknowledge receipt of applications and promptly provide feedback after interviews. Further, let job seekers know how the interview and hiring processes work and if possible, share your hiring timeline. Absent or delayed communication not only causes candidates to lose interest but can also create a negative perception of your company or brand.  

5. Check references only at the final hiring stages

 

 

Be strategic about this. Wait until you narrow the pool of talent to your top candidates to check their references and validate qualifications and work history. Conducting reference checks only for candidates you're seriously considering helps you avoid spending valuable time on less desirable or unlikely hires. 

6. Include only a handful of decision-makers 

 

 

How many is too many when it comes to the people responsible for making hiring decisions? Collaborative decision-making is essential to ensuring your internal stakeholders get the right people for their open positions – but too many decision-makers can create a time lag. To ensure a well-rounded yet time-efficient evaluation of potential candidates, involve the minimum number of deciders in your hiring process, such as hiring managers, team leaders, and the appropriate HR representatives.    

7. Design a unique onboarding experience that reflects your company culture

Your onboarding and training methods are a huge part of what creates success for you and instills confidence in your new hires. If done right, these programs greatly increase a new hire's sense of belonging and propensity to stay. Company culture is everything these days. A positive, authentic, and transparent company culture – the core values, mission, and beliefs that permeate your organization – is part of the deal in winning and retaining new hires in the current environment. Word gets around and serves as a magnet in attracting great candidates. Check out these 14 onboarding best practices to see if your strategy is up to snuff. 

8. Tap a recruiter for best practices and advice

While working to create a sense of urgency in your hiring process, it's crucial to do so without sacrificing the quality and outcomes of your talent acquisition efforts. Effective hiring is complex for most organizations, given how modern methods, best practices, and new technologies are evolving at such a rapid pace. Partnering with a trusted recruiting firm eases the process and helps employers excel in talent recruitment.
Give your hiring managers and HR team a leg up by engaging the industry experts at Goodwin Recruiting. Our recruiting partners have been helping companies win top talent since 1999 by mastering the delicate balance between speed and hiring competency. This is our core business and we can help you do it with today's most successful tactics and strategies. Let's make a connection!