When Is the Right Time to Check a Job Candidate's References?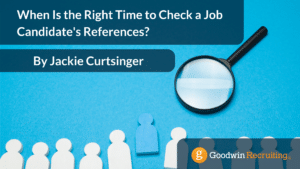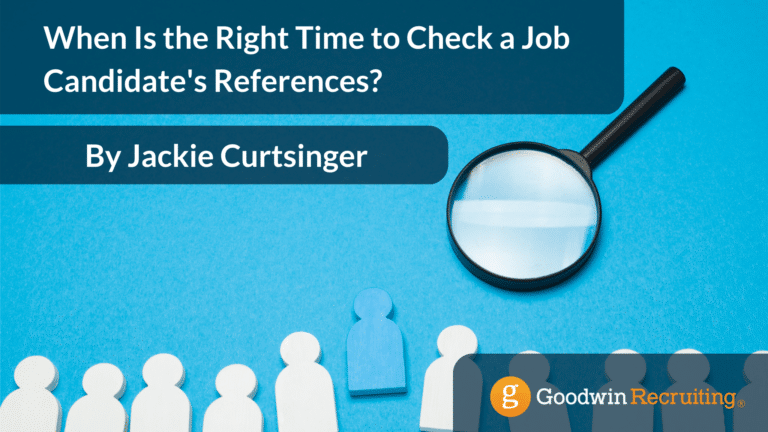 The job search and especially the hiring process with prospective employers can be stressful for job candidates. It's important for hiring executives and hiring managers to be respectful of their time and emotions. After all, these individuals are showing interest in joining your organization and taking the time to apply. Whether or not they are suitable candidates for your given role, treating them with respect is the right thing to do. This can be difficult unless the hiring process is handled in a fair and transparent way – including the point at which you check references.  
You already know that professional reference checks are crucial. Insights come from former employers and others with first-hand knowledge of a candidate's work history, previous job performance, dates of employment, and true scope of capabilities. Much is learned to either confirm the perceived promise of a candidate or put the brakes on hiring someone who seems ideal but is the wrong fit for the role or company. Maybe there are red flags from a previous job reference. For example, maybe a past employer would not rehire the former employee. On the other hand, good references from previous employers add to your confidence in a job candidate. 
Here's a common example of the wrong time
Unfortunately, some employers put the cart before the horse with candidates in the job market. Here's what I mean. During the interview process, a lot of candidates are given good signs and the impression that they got the job, only to learn later that it won't be offered. Employers may be sincere in their interest in hiring these candidates…until something negative in their work history surfaces during reference checks, or other reasons. Let's face it. Even for candidates with perfect references, it's frustrating to sail through the interview process only to be told they won't be offered the job.  
Failure to manage the expectations of job applicants, to prematurely give job candidates hope of being hired, or to communicate in a haphazard way during a job interview is viewed as unprofessional. It not only plays with the emotions of job seekers but can also damage a company's reputation. 
Be clear with job applicants about your process
Let job seekers know up front how you interview for open positions, with whom they will interview at your organization, approximately how long the process will take (even if you're not completely sure), and at what point you will perform reference checks for the most qualified candidates.  
This way, candidates are not left to wonder how the job interview and hiring process is managed. Here is an aside but an important one: Once you narrow down applicants to your top candidates, inform the others right away that they have not been selected and sincerely thank them for applying.  
Three reasons to save it for your short list of candidates 
As a best practice, it's good to check professional references at the end of the interview process, after you have narrowed down the pool of talent to your final candidates and are preparing to make a job offer. You have already gathered information about these choice candidates through cover letters, resumes, previous jobs, and one-on-one interviews.  
You have a good sense of their qualifications and fit for your role and culture. All you need now is affirmation from former employers, colleagues, or mentors that these candidates have demonstrated the skills, aptitude, and team mentality you're seeking in your new hire.  
By conducting reference checks during the final stretch of the interview process, you will accomplish three things:  
You will either confirm or need to reevaluate the information you have gathered to make the most informed hiring decision.

 

You will avoid stringing along non-qualifying candidates who aren't a good fit, while also protecting your company's reputation. 

 

Your hiring process will become more efficient because you are investing time in checking only the references of the most qualified prospective employees. 

 
If your company conducts background checks on prospective employees during the hiring process, it's best to do this after performing reference checks, just to ensure this final step is reserved for candidates who meet all other criteria before receiving a job offer. 
Let us bring you top talent and greater hiring efficiency
The hiring process can be stressful for executives and hiring managers, too, especially when you have an important leadership or management role to fill. At Goodwin Recruiting, we serve as an extension of our clients' human resources teams. Each candidate we present is thoroughly interviewed and vetted for your specific job opening, job description, and company culture – before we send their information to you for consideration. We also arrange interviews and manage other critical elements in the hiring process for you.  
When time is of the essence in hiring the right person for the job, reach out to our talent recruiting experts.