4 Ways Talent Recruiters Build Genuine Candidate Relationships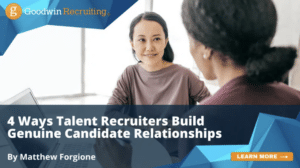 Active job seekers put their careers in the hands of recruiters, and passive candidates value trust and discretion from recruitment specialists above all else. To succeed in talent sourcing, you must be focused on building relationships – not just with employers but especially with job candidates. After all, having a strong talent pool at the ready is your greatest asset. Candidate relationships are also one of the most rewarding outcomes in this business. 
How do you gain the trust of today's professionals during the recruitment process? How do you prove you're interested in championing their career paths, skills, and accomplishments? While great opportunities with leading employers are attractive to job seekers, the traits they want and need most from a recruiter are trust and support. In short, they want an advocate, a mentor, a partner in the job search. Try to be all three!  
I wanted to share four best practices that have worked for me in building those all-important candidate relationships. 
Put yourself in the candidate's shoes

Before going into a Zoom meeting or in-person interview with a job candidate, I think about how the person might feel. In my mind, the getting-to-know-you step is essential to the candidate experience, and it's a two-way street that starts with me. I know they want to make a good impression in their job search. I also know the ability to do this must come from a place of comfort…and trust. Some may be feeling confident; others nervous or insecure.

Regardless, what they all want to feel is a solid connection. One way I achieve an air of warmth and build trust is through self-disclosure. I take the pressure off the candidate by sharing what I have done in my own career, giving specific examples about jobs I have held, how much I value the people who have helped me along the way, and that I am committed to paying it forward. 

Uncover details about their lives and professional pursuits

It's no secret that today's top talent is in the driver's seat. Employers must adjust to new wants, needs, and demands to land ideal candidates. It's also no secret that some candidates will take jobs they don't really want. Many will jump ship if a better gig arises, and others don't hesitate to put themselves back on the job market if they are unhappy in their new roles or with their work environments or employers. It's often happening, and it's not good for employer brands, candidates, or recruiters.

For these reasons, I believe it's critical to find out everything I can about a qualified candidate by digging deep to learn about their interests, hobbies, and professional aspirations. What about their family life and planning? Is there a desire to relocate? Do various dynamics and life choices fit well with chosen careers? What do they really want from a job? It all matters in our part of the hiring process. Successful recruiting is about the candidate being happy with their future! Each job seeker has their own story, so I ask and listen closely to make good, solid staffing recommendations and placements.

Set them up for success 

Once I get to know my candidates, I proceed to match them with jobs and employers that are the right fit. This is a genuinely personalized undertaking in which retention of new hires is desired for the employer, so the desires of individual candidates are very much a part of my process. When I present a job opportunity, it's never just a title, job description, and compensation package. I communicate everything I know about the company culture, hiring manager or HR team, leadership, direct reports, and how the company operates and treats employees. I also share what I know about the interview process.

Armed with detailed information, candidates are in a much better mindset to imagine themselves in that role and decide whether to pursue it. If a candidate doesn't feel it's the proper position or fit, it's not. I encourage candidates to go with their gut. When we find the right role and organization, they'll know. The bottom line? It's all about making sure that a year from now, they can turn around and say, "Matt made a difference in my life and career."

Stay in touch

 

Candidate relationships are never once-and-done. After I place a candidate, and even if I don't find the right position for them 'right now,' it doesn't end there because my focus is not solely on placements. I want professionals to know I understand that careers don't start or end with one job search or stint and that I'm in it with them for the long haul. Candidates are encouraged to stay in touch, and I reach out from time to time to see how they are doing. Recruiters never know when an accomplished professional might come back to us for help in taking the next step in their career – and the relationship is already in place. 
Care and trust mean everything in this business
Talent acquisition is complex, and job candidates deserve so much from us as recruiters. When we come to the table in earnest to build rapport and invest time in a candidate's best interests, great matches are made, the interview process and onboarding experience go smoothly, and absolutely everybody wins. 
If you're a job candidate looking for a new opportunity, reach out to me today. The best roles aren't always advertised through job postings, so it's hard to find the right one on your own. As we say at Goodwin Recruiting, "Don't look for a job. Discover your future!" I'd love to learn more about your unique story and find the position that suits your professional aspirations and lifestyle.