4 Recruiting Tips for HR Professionals in This New Era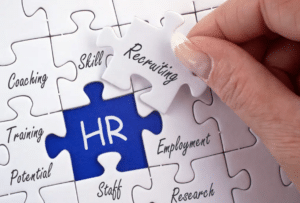 Whether your title has the long-standing and traditional "Human Resources" in it, or the more recently trending "people," culture, development, and almost anything in between, we all know it's about establishing and maintaining culture and relationships. Titles are titles, but the "how" of reaching the goals is the part that causes stress and sleepless nights for HR professionals. And, that's in NORMAL times. Add to that, managing stress in the organization during the crisis and then add creating a strategy for screening, interviewing, hiring, and onboarding former and new team members with many moving targets, and it can become unbearable and lead to burnout.
1. Take Care of Yourself First 
During this NEW ERA of COVID, stressors are magnified by many factors of ten. Moreover, while HR professionals are dealing with their own stress levels, they are also responsible for managing workplace stress for the organization. It's no surprise that the Professionals in Human Resources Association identified HR as some of the most stressed professionals in the workplace. In their article, Self-care for HR in the Time of COVID-19, they offer recommendations to avoid burnout.
2. Use Webcam for Interviews to Build a Personal Connection
It is an ideal time to streamline the interview process and take maximum advantage of technology by using a webcam for interviewing. This topic has been covered in prior blogs and, most recently, by Paul Duke on April 23, Remote Interviewing: The Silver Lining. Goodwin Recruiting has extensive experience in this area and can offer coaching on the subject. There are many choices of media in the arena with Zoom and Google Hangouts among the more popular.
3. Use Automated Scheduling, Confirmations, and Reminders
Calendly is an excellent resource for allowing candidates, associates, and vendors to book directly onto your calendar with confirmation and follow-up emails and/or texts. You control the parameters by limiting availability time frames. Calendly connects directly to a variety of calendars, including Outlook. Recently, Calendly has started working with Zoom, which can be automatically added to the appointment. One timeslot is available for free, like half-an-hour or an hour, and multiple slots are available for a nominal annual fee. There are Goodwin Recruiters who can coach on this subject as well.
4. Use a Contingency-based Recruiter to do the Prescreening for You
Prematurely bringing back internal recruiters can ruin an already-stressed budget. A contingency-based recruiter only adds cost when you hire a referred candidate. There is no risk. Goodwin Recruiting will source, screen, interview, and submit only candidates who they feel are excellent fits for the job. This requires a strong working relationship in which we are given a clear understanding of the job requirements, culture and personality fit, salary requirements, and ongoing feedback on candidate submittals. We have recruiters who can help in the following divisions and more: Restaurants and Hotels (Hospitality), Finance and Accounting, Manufacturing and Engineering, and Senior Living and Healthcare.
Are you experiencing challenges in your talent and selection process?
Goodwin Recruiting is here for you. For over 20 years, Goodwin Recruiting has been offering extensive support for employers and jobseekers in navigating all types of challenges. We invite HR professionals to connect with one of our industry-leading recruiters to learn more about how we can streamline the interview process for you. Let us channel our pipeline of highly vetted candidates right to your desk, so you can spend more time operating and less time looking.
Are you looking for a partner in your job search?
Goodwin Recruiting is here for you, as well! We have strong relationships with clients all over the country actively hiring during the COVID-19 crisis, and we would love to advocate for you. Ever considered recruiting? Join our team!