2023 Tech Industry Layoffs: Reading Between the Lines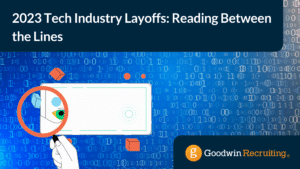 If you're trying to wrap your head around the substantial layoffs in the technology industry, you're not alone. And if you think you have it figured out, don't hold your breath because dynamics and statistics change daily.  
People want to know when the tech industry downsizing that started last year will subside, when the tech employment outlook will stabilize, and when companies will regain the confidence to start hiring again. The truth is that all these things are already happening – and not just within the tech industry. All industries need people with IT experience.  
Why it's hard to assess today's tech industry employment status 
On one hand, in 2023, we have seen massive layoffs by tech companies large and small. As reported by online layoff tracker layoffs.fyi, as of late June 2023, 810 tech companies had laid off more than 210,000 employees – compared to 1,058 tech companies that laid off nearly 165,000 employees in all of 2022. The site tracks both U.S. and non-U.S. tech industry layoffs.  
According to a Crunchbase News tally, in 2023, more than 151,054 workers in U.S.-based tech companies (or tech companies with a large U.S. workforce) have been laid off in mass job cuts. Companies with the biggest workforce reductions so far in 2023 include:  
Amazon [16,000 roles] 
Alphabet [12,000 roles] 
Microsoft [10,158 roles] 
Meta [10,000 roles] 
Ericsson [8,500 roles]  
Again, layoffs and reduced headcounts have not been isolated to Big Tech. The likes of Google, Alphabet, Amazon, Meta, Microsoft, IBM, Oracle, and others share this trend with a broad range of smaller tech companies, from fintech startups to apps and beyond. 
On the other hand, statistics suggest that news of job cuts and major layoffs may be bigger than the actual state of employment in the tech industry. Employment in the IT sector in the United States alone has consistently grown over the past 10 years. After a steep drop in the workforce at tech companies in June 2020 (due to COVID-19), IT employment turned around to exceed three million tech workers beginning in April 2022 and peaked at nearly 3.12 million employees as of January 2023.  
By 2032, U.S. tech industry employment is forecast to surpass 6.1 million people. We're already seeing evidence of this projected trend.   
Big layoffs are opening new doors to workers and other sectors
"For the thousands of workers who never experienced upheaval in the tech sector, the recent mass layoffs at companies like Google, Microsoft, Amazon, and Meta came as a shock. Now they are being courted by long-established employers whose names aren't typically synonymous with tech work, including hotel chains, retailers, investment firms, railroad companies, and even the Internal Revenue Service," said Alexandra Olson for the Associated Press in June 2023. "All of those sectors have signaled on recruiting platforms that they are still hiring software engineers, data scientists, and cybersecurity specialists despite the layoffs in Big Tech."  
Olson added that "No employer is making a more aggressive push than the country's largest: the federal government, which is aiming to hire 22,000 tech workers in fiscal year 2023."  
Not to be outmaneuvered, the tech industry is experiencing explosive growth and employers in the IT market have the most aggressive hiring plans among all U.S. industries, according to global staffing firm ManpowerGroup. At U.S. tech firms, 55% plan to add to their current headcount, up 10% from the previous quarterly outlook.  
These developments are not surprising as the tech industry continues to evolve and expand in areas like artificial intelligence (AI), machine learning (ML), cloud computing, cybersecurity, software development, and more – all of which are having a direct impact on companies and their customers across every industry.  
How big is the IT industry?
In terms of sales, the global IT market is projected to reach $4.6 trillion in 2023, up from $4.4 trillion in 2022, despite continued economic turbulence like high inflation rates, according to IT research firm Gartner.  
The global artificial intelligence market size all by itself was valued at $136.55 billion in 2022 and is expected to be one of the fastest-growing industries of 2023, already valued at $328.34 billion, and it's projected to increase at a CAGR of 37.3% from 2023 to 2030.   
What set the layoff rollercoaster in motion?
Despite an encouraging outlook, the tech industry is still reeling from a combination destabilizing factors over the past few years. COVID-19 turned the world upside down, an economic slowdown kicked in, and some business decisions haven't been the best for the short or long term, due in part to unprecedented global health, social, and financial dynamics.  
For example, some companies may have over-hired during the pandemic when nearly every form of commerce moved online, only to have to downsize immediately after. Other variables have contributed to layoffs, including sales dips, recession fears, and geopolitical unrest.  
All of this led to cost-cutting and layoffs beginning in 2022, with reduced headcounts greatly increasing in 2023. Early 2023 exacerbated the situation with a slowing economy, ongoing interest rate hikes, reduced demand for products or services, declining revenues, and budget cuts. These and other circumstances are what prompted tech companies to restructure and reduce their workforces.  
Are you feeling the impact? 
If your organization or division is feeling the pain of a reduced IT team and you need to rebuild with the right tech workers and skill sets, contact our expert IT recruiters at Goodwin Recruiting today. Here are just a few of the key roles we fill:  
CIOs

 

Directors of Technology

 

Web Development Engineers

 

Software Engineers

 

Data Platform Engineers

 

IT Systems Specialists

 

Project Managers

 

Restaurant IT Systems Specialists 

 
Are you an IT professional looking for your next opportunity? Visit our job board to review current IT openings with our clients.  
We specialize in connecting businesses and IT talent in today's complex and competitive hiring market.   
Additional resources on 2023 tech industry layoffs