Telemedicine Is Making Its Mark In the Hiring and Job Market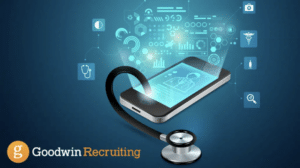 Healthcare Weekly's in-depth market analysis says telemedicine is "one area of medicine that is growing at an epic pace, causing a seismic shift across the healthcare spectrum." The global market size is expected to grow past USD $130.5 billion by 2025, up from $26.5 billion in 2018, with the U.S. market alone expected to exceed 64.1 billion by 2025. 
While recent exponential growth is attributed to the pandemic, which hastened advancements in virtual care, experts affirm telemedicine has cemented itself as a permanent service model. At Goodwin Recruiting, we have seen a huge increase in demand for telemedicine professionals.   
Most, if not all, organizations in the healthcare industry and those in numerous vertical markets have some sort of stake in telemedicine and telehealth. How are organizations adapting to dramatic growth and change? What are the fastest-growing areas, and what are the most prominent jobs in telemedicine and telehealth being created and filled by hiring companies?  
The distinction between telemedicine and 
telehealth
For hiring companies and job seekers alike, it's worth knowing that telemedicine and telehealth are actually two different things, although the terms are widely used interchangeably. Here is a brief explanation of the differences from the American Academy of Family Physicians (AAFP): 
Telemedicine

is the practice of medicine using technology to deliver care at a distance. It specifically refers to remote clinical services.

Telehealth

 broadly refers to electronic and telecommunications technologies and services used to provide at-a-distance care and services. Most services

 and 

jobs in telehealth

 are non-clinical in nature.  

 
Many consider telemedicine a subset of telehealth, but there is certainly overlap in services, and both are equally vigorous areas of market growth, hiring initiatives, and job opportunities. 
The future as 
projected
 by the experts
To illustrate the impact telemedicine will have on the future, Modern Healthcare asked healthcare leaders and telemedicine providers from multiple specialties how they anticipate telemedicine will reshape the healthcare industry over time. Here's what they said: 
Telemedicine will become a standard service offered across all care settings.

Patients will choose providers, health systems, and hospitals based on telemedicine access.  

Medical facilities that embrace telemedicine will see business and revenue growth. 

Telemedicine will become an efficient option for preventative care.

Access to specialists will become the norm, which will benefit hospital wait times.
"With patients becoming accustomed to the level of access telemedicine provides, I don't think we're ever going to be able to go back. The box is open," predicted Atlanta Neurologist Dr. Jeffrey English, one of the specialists interviewed by Modern Healthcare. "In the past, doctors would tell a patient, 'You need to see a neurologist. Here's the number. Now, the doctor can say, 'You need to see a neurologist, let's connect with one now,'" he said. 
Even as medical practices resumed in-person appointments during the pandemic, a large percentage remain virtual. In March 2021, Chief Medical Information Officer Christopher Sharp at Stanford Health Care in Palo Alto, California, said about a third of new-patient visits are using telemedicine, and close to 75% of patients who completed a video visit report they are very likely or extremely likely to choose a video consult over an in-person visit. "It's not surprising that this was better than nothing, but what is surprising is how highly virtual care is valued by our patients," he said. 
M
arket g
rowth 
is
 creat
ing
 – and expanding – access 
to talent 
Telemedicine and telehealth have introduced alternative ways to deliver healthcare, and simultaneously created new opportunities and models for workforce recruitment and retention. While many organizations are in adoption mode, responding to change and demand, countless more entities are driving change and advancement. Here is a scope of players in the market:   
The providers of healthcare

: 

T

here is a steady rise in demand for professionals in telemedicine-related fields

 a

mong hospitals, healthcare networks, 

clinics, 

medical offices

, private practices, retail pharmacies,

and other healthcare

 facilities

. 

The call

 is growing for 

doctors, nurses, 

nurse practitioners, midwives, physician assistants

, pharmacists

, nutritionists, dieticians, social workers, clinical psychologists,

 

and other 

practitioners

.

 

 

 
The enablers

: 

The 

telemedicine and telehealth 

market

s

 

are

becoming quite lively and competitive with the launch of new entrants, new platforms, and specialized products and services that cater to specific areas of healthcare.

Healthcare Weekly cites the explosive growth in companies, technologies, organizations, and government entities facilitating the platforms, architectures, and operational frameworks

driving 

telemedicine and telehealth.

 
Since telemedicine and telehealth are enabled by technology and dedicated platforms, the hiring door is wedged wide open to diverse IT professionals who are fueling development. Organizations are hiring designers, developers, engineers, quality assurance and security experts, and many other specialists with experience in the healthcare industry.  
R

ural 

communities

: 

Initially

 designed

 decades ago as a way for medical professionals to reach patients in 

remote areas

, telemedicine was primarily accomplished by telephone

 and fax

. Today is a whole new ballgame. 

Rural Health Information Hub shines a light on how 

modern 

telemedicine

 

is 

used to promote 

workforce recruitment

 in rural communities facing 

shortages of physicians and specialists

, 

afford

ing

 these communities alternative staffing models

 to more 

easily and 

readily deliver 21st-century

 healthcare.

 

 
The 

p

ayers and 

p

olicymakers

: 

R

ecognized for reducing the cost burden of healthcare for medical providers and patients alike, telemedicine is nevertheless in a class of its own

. It

 

requires

explicit policies, protocols, formularies, and financial management. Coverage for telemedicine products and services is heavily influenced by federal and state 

laws and 

regulations, as well as private insurance companies, which have greatly expanded the services they cover. Administrating institutions and organizations

 – the 

payers and policymakers – are 

hiring

specialists and other staff to refine, evolve, and manage this area.

 
F

ederal 

sponsors

: 

Federally funded telehealth programs have emerged to eliminate barriers to entry 

and

 expanded operations. 

T

he U.S Department of Education

, 

the 

U.S. Department of Agriculture, and other federal sponsors are

funding 

education

, training,

 and programs 

focused on finding

, 

educating,

 and placing

 new worker

s in the workforce

.

 In 

2020

, the U.S. Federal Communications Commission 

created

 programs to help healthcare institutions deploy telemedicine technologies. 

G

overnment support is expected to 

reduce

 barriers to adoption, opening growth opportunities

 and 

jobs

 in 

telemedicine

. 

 
Corporate America

:

 

Exponential growth in virtual care is one of the major trends identified in the 

2021 Large Employers' Health Care Strategy and Plan Design Survey

, which reflects perspectives and plan designs of 122 large employers that cover more than 9 million lives. More than half of employers

 surveyed

 (52%) will offer more virtual care options in 2021. Nearly all will offer telehealth services for minor, acute services, while 91% will offer telemental health, which could grow to 96% by 2023. 
There is a growing number of companies in the telemedicine and telehealth space. A couple of examples include Walgreen's Find Care platform, which connects patients with in-person and online healthcare providers for illnesses, preventive care, COVID tests, and more. Amazon Care, which incorporates a telehealth app, prescription delivery, and the option to schedule a visit with a physician at patients' homes and offices, is being expanded to Amazon workers and other private employers nationwide.  
These trends foretell a growing necessity for knowledgeable telemedicine professionals.  
H
uman capital is needed
 in many more areas
Specialists and workers are required in additional disciplines that enable and impact the telemedicine and telehealth sector. Goodwin Recruiting has seen an increase in demand in many sectors within healthcare over the past 24 months, including medical research, public health, education, administration, legal, accounting, finance, benefits, marketing, and other essential realms, such as governance of the Health insurance Portability and Accountability Act (HIPAA), which applies to the transfer, exchange, processing, and storage of patient information.  
A 
rewarding
oppo
rtunity
for hiring organizations and job 
seekers
Growth in telemedicine and telehealth will be a blend of practitioners adopting these new opportunities, companies entering the growing space, professionals choosing and advancing their careers in telemedicine, and new workers joining the field as jobs are created to meet the increasing demand for virtual practitioner-patient connectivity and healthcare. 
There are many challenges ahead, but the future is bright. The industry is beckoning a force of agile, innovative companies, medical institutions, and professionals to take the market to new levels in giving patients more and better ways to get remote consultations, diagnoses, prescriptions, treatment, and advice from healthcare professionals. Expertise, sound strategies, and new solutions are needed to continue the downward trend in healthcare costs, boost the quality of care, and expand access to more humans.   
Goodwin Recruiting is an award-winning recruiting firm with a nationwide team that is helping organizations find and hire the right people for this growing field of medicine and healthcare.