Should I Use a Recruiter for My Music Company?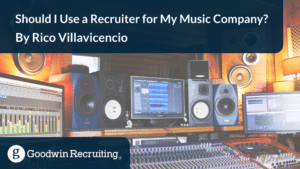 Deciding whether to use a staffing and recruiting firm for your music agency, record label, music label, advertising company, music publishing, or media company can be a big decision. Here are some things to consider as you explore using a recruiting agency for the music industry:
Proven Recruiting Experience: Look for a recruiting company with proven experience. Goodwin Recruiting has been around since 1999 and has over 300 recruiting partners nationwide, from Los Angeles to Nashville to New York. We have been awarded as a Forbes Best Recruiting Firm for 2020, 2021, 2022, and 2023, and have had the privilege of enhancing thousands of clients' businesses and countless candidates' lives.
Knowledge of the Music Industry: A recruiting firm with knowledge and a passion for the music industry is what you're after. At Goodwin Recruiting, we have recruiting experts who come from the music industry, who truly understand what you're looking for in a candidate and who have the network to find talent that is the best match for your needs. The music business is unique, and you want to work with a recruiter who understands the specific needs for your open positions.
The Right Culture Fit: Congruent relationships are everything. Find a recruiter who will represent you well, get excited about what you do, and portray that energy when speaking with candidates about joining your company. Be sure to also ask questions around Diversity, Equity, and Inclusion in their recruitment process. Here at Goodwin, we've made that part of our Core Values! You can learn more about our commitment to DEI on our YouTube channel.
Positive Feedback: Check out reviews for their recruiting company online and through client references. What do people have to say about them? What is their own team saying about them? We invite you to review our testimonials, as well as Google reviews, social media reviews, and Glassdoor reviews to learn more about our commitment to being the best.
Competitive Fees & Guarantees: Find a recruiting company with competitive fees, but consider as with anything, you get what you pay for. Just as you wouldn't necessarily choose the cheapest car on the lot or the cheapest home available, you wouldn't want to choose a recruiting firm with fees that are far below the others. Look for a firm that offers competitive fees, and for a replacement guarantee with each placed candidate.
We have a team of recruiters at Goodwin Recruiting with extensive experience in the dynamic and ever-evolving entertainment industry. Their years of experience with Royalty Management, Account Finance Management, Logistics, Supply Chain, Operations, Podcasts, Writing, Directing, and more can be put to great use in finding the ideal candidates you're looking for. Some of the many positions we can help to fill for full-time roles in the music industry include:
Accountants
Vice Presidents
Sales & Account Management
Human Resources
Operations
Digital Marketing & Digital Strategy
IT Directors
Copyright Managers
Royalty Accountants
Royalty Management
Content Creators
Product Managers
Music Supervision
Studio Engineers
Brand Managers
Whether you're looking for a recruiter to help with your entertainment hiring needs or for a recruiting team to support your search for music industry jobs, we can't wait to connect with you. Reach out to the entertainment recruiting experts at Goodwin Recruiting today.