Hiring Tips for Associations Navigating Today's Talent Market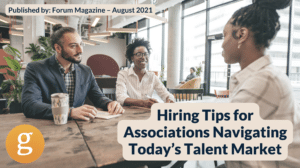 With one in four workers projected to leave their jobs this year in search of greener pastures, the competition for top talent is tighter than ever. Goodwin Recruiting regional director of recruiting, Steven Farrahi, shares some tips on how organizations can get smarter about hiring to stand out in today's job market in a recent article in Forum Magazine.
Read the article HERE.