5 Must-Read Books for Recruiters & Hiring Managers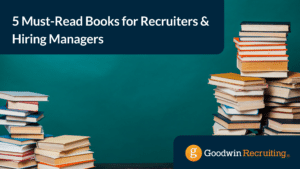 August 9th is National Book Lovers Day, a day to put our smart phones down and get back to the basics of reading a good old book.
What better day to share these 5 great reads for recruiters and hiring managers? Grab a coffee, find a comfy couch, and read about recruitment and hiring strategies that can positively impact your team, with these 5 must-read books:
Hiring for Attitude, by Mark Murphy
Sure, you need to base your interview questions on the criteria of each job – and to be sure that candidates fit the job requirements needed for success. But in addition to that, considering a candidate's attitude is a huge factor. Learn about how you can build your team to include those who can positively impact your company's success – not only with their experience, but with their attitude and mindset:
Inclusion on Purpose, by Ruchika Tulshyan
At Goodwin Recruiting, we are Dedicated to Diversity, Equity, and Inclusion. There is so much for all of us to learn about how to foster an inclusive company culture – it isn't something just happens, but instead, something each of us can continually work to improve. This book helps to identify ways companies and individuals can promote diversity, equity, and inclusion and make a difference in the lives of others:
Who, by Geoff Smart and Randy Street
As all hiring managers and recruiters know, the hiring process and interview process are crucial to the success of an organization. Making the right decisions when it comes to hiring, and matching the candidates skillsets and values with the needs of your company will help you bring on the very best talent. Learn more about how to consistently hire the right job seekers for your organization:
The Culture Code, by Daniel Coyle
This book highlights how successful companies work to create a sense of belonging, collaboration, and shared identity, all of which are so important in today's hiring market. Creating a transparent and positive company culture is something that's done on an ongoing basis, and the stronger your team dynamics and employee engagement are, the better your work environment and the higher your teams performance will be:
The Ideal Team Player, by Patrick Lencioni
Ideal team players help to prioritize others, have a strong work ethic, and a desire to contribute to the success of the company. Finding top talent who possess the traits outlined in this book will help to promote a positive team environment – which is what ultimately leads to success. As the saying goes, "there's no 'I' in team"!
There are so many other impactful books arounds hiring, and a never-ending opportunity to read and learn more about effective hiring strategies for HR professionals. These are just a few examples to get your reading list started!
If you have a chance to read them, let us know what you think. And as always, we'd love to help with your day-to-day hiring needs. If we can assist in finding great talent for your team, please don't hesitate to give us a shout.