4 Ways a Manufacturing Staffing Agency Can Cut Down Your Hiring Time!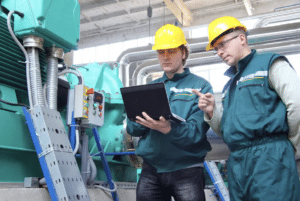 Most engineering and manufacturing leaders are well aware of the economic principle of "opportunity cost." Or a term often used in everyday language is, "Time is money."
But even the savviest businesspeople sometimes forget to apply the rule to employee recruitment campaigns. Time-to-hire is absolutely critical for any successful company. Partnering with a manufacturing staffing agency is one of the best ways to quickly onboard the right workers.   
Here are 4 specific ways a manufacturing staffing ag
ency can cut down your hiring time. 
1. Recruiting Urgency
Most company leaders would like to think their internal HR teams aggressively pursue recruiting objectives. But human nature and anecdotal evidence suggest otherwise. The reality is it's very hard for salary-based HR folks to compete with commission-focused third-party recruiters.  
A manufacturing staffing agency typically employs a team of experienced professionals who are focused 100% on delivering for their clients. They eat, speak, and walk "recruiting" every working hour. Not only are they competing against other agencies, but they often compete against coworkers internally! Can any internal HR team honestly claim the same sense of urgency?
2. Candidate Vetting
Many engineering and manufacturing firms have internal recruiters and HR folks who post online job advertisements and inquire regarding word-of-mouth referrals. But few have robust databases of pre-qualified active and passive candidates.  
An established manufacturing staffing agency, on the other hand, boasts hundreds of prospects available at the click of a button. Many of these people won't be active in the job market, but they may still be open to new opportunities. Experienced third-party recruiters are more than happy to reach out to all qualified workers—even those currently employed—to pitch a client's open position! 
4. Staffing Technology Tools
Some companies may not realize it, but their manufacturing staffing agency counterparts are very high-tech operations these days. They're not simply placing job advertisements and making phone calls. Instead, they employ a range of tools in order to quickly identify and secure top talent. 
While these resources are available to any interested company, odds are most engineering and manufacturing firms haven't invested in them. For example, "applicant tracking systems" (ATS) help to electronically streamline the recruitment and processing of applicants using keywords and other advanced functions.   
Customer relationship management solutions (CRM) are other tools well-utilized by professional recruiters but often not leveraged by internal HR teams. And advanced text and electronic "communication platforms" help to ensure candidates move quickly through the application process and may aid in vetting procedures via capability exams. Some even employ AI-powered "bots" that answer questions along the way!  
At the end of the day, it's natural for companies to try to keep work functions "in house." However, a strong manufacturing employment agency can provide tangible value for most engineering and manufacturing firms. They're talent-sourcing machines that employ the very best recruiters and technologies to get the job done fast.   
Looking for a staffing partner?
If your manufacturing or engineering company needs industry-specific staffing resources, be sure to contact America's best recruiting firm. For the expert staffing partner you need, reach out to Goodwin today!