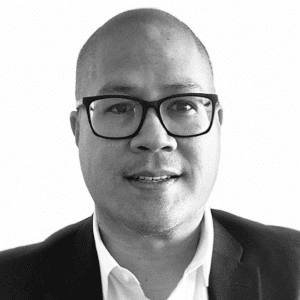 Rico joined Goodwin Recruiting in March 2021 after 20 years in the Entertainment industry in various roles. One would enjoy working with Rico as a recruiter because he is relentless while having the ability to understand your needs and requirements, whether you're a client or a candidate.
He started in the music business as a Royalty Manager, handling publishers' and songwriters' income. Rico then moved to Disney in 2006 as a Finance/Accounting analyst. In 2009, Rico moved to Technicolor Home Entertainment Services as an Account Finance Manager, having Disney as his sole client. This is where Rico managed the relationship between Disney and Technicolor as it relates to the physical media business of Disney. He was later on involved in Logistics, Supply Chain, and Operations as he got promoted to Account Director. After 11 years and due to Covid, Rico was laid off by Technicolor which led to a major career change as a recruiter.
Rico is married to Trish and has two daughters, Sofia and Lara, and a son, Miles. Although he is the antithesis of a 'runner,' Rico has completed 18 marathons and a few triathlon events.
- Executive Search Client
"Honest in their approach"
- Financial Candidate
"One of the BEST experiences I have had"
- Hospitality Candidate
"Rapid delivery of candidates"
- Hospitality Client