How to Be a More Competitive Employer in the Financial World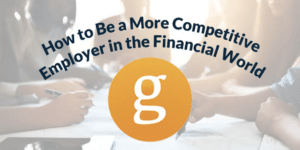 The global financial industry has experienced dramatic disruptions over the past several years and innovation is not slowing down. From digital money to finance apps and intelligent, personalized services that cater to individuals, the industry is transforming before our eyes.  
To support and sustain advancement, demand and competition for top talent has never been greater, with young and experienced professionals alike gravitating to the most attractive, exciting, and promising career opportunities – but there are some caveats that heavily impact their choice of employers. 
Where does the best talent want to work?
Prior to the pandemic, payment methods and processes were breaking new ground within the fintech sector. Banks also began introducing unprecedented offerings and services. And innovative ways to invest also materialized.
Are these and other disruptors creating opportunity and attracting talent only to participating companies, while imposing competitive and staffing threats to others? Today, the answer depends on an individual employer's approach to work models, hiring, and company culture.  
We'd like to explore a few ways financial services companies can gain a solid edge in the talent acquisition landscape – while simultaneously increasing your employee retention rates. These strategies involve positive work environments, strong company cultures, wellness programs, incentives, opportunities to advance career paths, work-life balance, perks, great work experiences, and other game-changing attributes. 
Offer employees a flexible, hybrid work model
Amid the rapid ascension of industry transformations, financial organizations were plunged headlong into the pandemic to face the same challenges as every other industry. Not the least of these was the near overnight shift to remote work – a dramatic turn of events that not only impacted daily operations but also changed how and where people want to work. This is an area where all financial companies are grappling with how to attract and keep employees.  
Before the pandemic, only 29% of financial services firms had at least 60% of their employees working from home at least once a week. Today, 96% of financial services decision makers believe hybrid work environments will help them recruit top talent and remain competitive.   
"As the world returns to some new normality, banks and financial services are on the hunt for talent and battling against a shortage that is impacting businesses worldwide. Hybrid work is becoming a prerequisite for banks to attract new talent and retain a competitive advantage," said Jonaki Egenolf, chief marketing officer at Riverbed | Aternity. "This means investing in end-to-end visibility and network performance and acceleration solutions that will future-proof their networks and deliver an exceptional end-user and digital experience. In doing so, they will create an environment that will inspire innovation, drive productivity, capitalize on growth, and attract the next generation of talent."  
How do you do it? Egenolf touched on the biggest challenge companies face in offering an effective hybrid working model. Once an organization makes the commitment, how do they establish an effective model? Such models are unique to every company, based on their specific needs and operations, but there are across-the-board characteristics that should be incorporated in all models. 
Cisco says financial services firms need to reimagine/transform their operating models and not just retrofit existing IT stacks with hybrid work-enabled siloes. They set out these five characteristics for "Powering Hybrid Work" in financial services to get hybrid work to really work:  
Inclusive

: Offer equal experiences for everyone. This enables firms to provide a work environment where every employee can participate fully and be seen and heard equally.

 

Flexible

: Adapt to any work style, role, and environment. This enables employees who are spread across different location types (office, home, etc.), time zones, and even countries, and working at different hours, to have access to flexible tools that can address their different needs while adapting to their work styles, roles, and devices.

 

Supportive

: Focus on safety, empathy, and well-being. This enables firms to promote a supportive mindset throughout every level of the organization, thus ensuring employees are comfortable with ways of working and feel safe, secure, supported, included, and cared for.

 

Secure

: Be secure by design, private by default. This enables employees to have worry-free access to reliable and secure connectivity and secure app experiences, thus ensuring all team members can work and collaborate with confidence anywhere they choose to work and have consistent, uninterrupted access to required applications.

 

Managed

: Deliver modern infrastructure and frictionless administration. This enables IT teams to operate and manage the complex and dynamic hybrid work environment, using an approach known as full-stack observability, which delivers optimized user experiences and enhanced enterprise technology management.

 
Create a more positive work environment
 A healthy and strong company culture is one of the caveats we mentioned earlier and no doubt one of the biggest with the weight it carries in determining where talented professionals choose to work – and stay. This factor dramatically escalated in the minds and hearts of job seekers during the pandemic, when values became more pronounced and defined, and the desire burned bright to work for companies with solid, actively demonstrated values.  
"In the financial services industry in particular, conservative legacy institutions are facing increased competition from fintech startups, which are more likely to offer the innovative and flexible culture that today's labor force wants. If the financial services industry doesn't do more to adjust its company culture to address the expectations of their current and future employees, they'll be on the losing end in this battle for talent," cautioned Abi Ireland, a UK-based performance strategist and executive and business coach.  
Culture translates to reputation

. Reputation is evident to employees and job seekers in many ways through many experiences and channels. Employers that are most successful in attracting and keeping talent have a strong commitment and strategic programs in place to uphold diversity, equity, and inclusion (DEI). They maintain environments in which all voices are welcome and heard. They offer a well-managed hybrid work environment. And they also have programs in place to promote well-being, such as offering mental health days.

 

Company culture must be a priority, an actionable pillar of the business strategy

. Culture is not a 'sometimes' or casual undertaking. Warren Buffet, known for prioritizing integrity and reputation in his own companies and those with whom they do business, puts it this way: "It takes 20 years to build a reputation and five minutes to ruin it. If you think about that, you'll do things differently." 

 

Who knows your company culture best? Your employees!

Take it from other financial services organizations, whose employees earned them a place in the

2022 Fortune Best Workplaces in Financial Services & Insurance

list. Top companies were determined based on a survey conducted by

Great Place to Work

, the global authority on workplace culture.

This year's survey analyzed more than 1 million employee survey responses and from companies representing more than 6.1 million employees. The effort revealed employee sentiments around great employee experiences that are defined by high levels of trust, respect, credibility, fairness, pride, and camaraderie. If you're interested in having your employees participate in the 2023 survey, the

deadline to apply

for the next publication is May 10, 2023. 

 
Ensure your compensation package is competitive  
Jessica Knight, vice president of Research at Gartner, says, "In the same way the pandemic forced organizations to rethink their hesitancy around remote work, today's labor market is prompting executives to reconsider their approaches to attraction and retention. They are considering bolder moves around compensation/benefits, talent sourcing and role design in the face of aggressive compensation offers from competitors."   
Wages are increasing. Employers competing for talent are upping their antes. The Association for Financial Professionals (AFP) Compensation Survey conducted earlier this year collected data on total compensation earned during 2021, plus data on base salaries effective January 1, 2022. Key findings revealed that financial professionals gained an average 4.4% base salary increase in 2022, a 1.5% gain over 2021. The increase breaks down further as a gain of 4.3% for executive- and management-tier professionals, and 4.5% for the staff-tier.  
Other forms of compensation have increased. Financial services firms commonly use bonuses as a talent acquisition and retention tactic. Gartner, for instance, discusses the pros and cons of what they call pay-to-play via compensation and benefits. Examples include signing and other bonuses, increased base pay, decoupling of pay and location, and tuition reimbursement. These strategies respond to market rates for labor and offer quick ROI for roles that must be filled immediately. Gartner says retention bonuses and incentives, accelerated promotions, and mobility programs that move talent internally to ensure high-demand roles are filled, go a long way in keeping talent in place. 
Another solution from Gartner is offering shorter or flexible work weeks for the same pay, a guaranteed maximum workload, and pay adjusted to workload, which can provide a lasting and differentiated position in the market. These can also increase productivity and employees' sense of well-being and help reduce attrition resulting from burnout.  
What are the best paying finance jobs? In May 2022, Money magazine published the best paying jobs in finance in 2022. This is good to know to stay competitive in the hiring landscape. The following links look at the 10 highest-paying finance jobs, their annual salaries, and typical educational requirements.  
Money also shares other well-paid finance careers with median annual salaries ranging from the low $60,000 to mid-$70,000: 
Logisticians: $77,030

 

Insurance underwriters: $76,390

 

Banking analyst: $74,463

 

Cost estimators: $65,170

 

Claims adjusters: $64,710

 

Appraisers: $64,710

 

Market research analysts: $63,920

 

Loan officers: $63,380

 

Investment bankers and/or brokers: $62,910

 
Another resource to explore: Top Workplaces offers insights into several more finance jobs and what they now pay, including for entry-level jobs. The bottom line is that the more information you have, the better equipped you are to establish compensation levels and packages that work for your organization and will keep you competitive in the hiring market.  
Keep the interview process as simple as possible
It's understandable why companies in finance and every other industry have become more cautious, even overly comprehensive in interviewing and hiring job candidates. They do it to avoid hiring the wrong people, losing money and time in replacing employees, and suffering indirect losses, like low morale, deficient or detrimental performance, and impact on company culture.  
We concur with the approach discussed in Harvard Business Review, which makes a strong case for streamlining the hiring process – specifically, to move away from multiple rounds of interviews, lengthy background checks, consensus-oriented hiring cultures, and other steps that prolong the process – because there's no strong evidence that these measures even work.  
They offer five ways to move in the right direction:  
Reduce the number of interviewers in your process.

 If you have more than four or five interviewers, chances are the costs associated with the additional complexity in your process have exceeded the benefits they produce. 

 

Be explicit about whose decision it is.

 Steer your organizational culture away from a consensus-oriented approach. Instead, for each role make it explicit whose decision it is, who else might have veto power, and that other interviewers should not be offended if a candidate is hired despite not getting their approval. And then keep repeating this message until most of your colleagues adapt to this new approach. 

 

Ask interviewers to use numerical ratings when evaluating candidates.

 We've experienced that doing so helps hiring committees focus on the holistic view rather than on one-off negative comments. Having interviewers submit their ratings before getting input from their colleagues will have the further benefit of 

reducing the chance of groupthink

 in your evaluations. 

 

Remove the "Dr. Deaths" from your hiring committee. 

Track which interviewers turn down the most candidates, and if they are not better at picking good hires, communicate with them that they will be removed from the hiring committee if they don't correct their behavior. 

 

Change your culture to reward those who spot great hires, not penalizing those who end up with an occasional poor performer.

You can further do this by emphasizing the difference between good decisions and good outcomes. Sometimes a fully logical bet will result in a poor outcome. If need be, call out those spreading negativism. 

 
Simplify your talent search process
Most companies aim to cut through mountains of resumes to find potential candidates, only to become mired in the time it takes to vet and interview people. There's a better and easier way. Tap a recruiter with expertise in financial executive search and financial services recruitment. Goodwin Recruiting partners have been in the finance industry for years, and our candidates are already thoroughly vetted. We source talent in the areas of asset management, wealth management, private equity, investment banking, commercial banking, hedge funds, financial institutions, fintech, real estate finance, client services, and nonprofit organizations.  
Here are some of the roles we fill for clients nationwide:  
Managing Partners, CFOs, and Compliance Officers

 

Strategic Planners and Risk Management Specialists

 

Corporate Finance Managers

 

Controllers and Comptrollers

 

Directors of Finance and Directors of Financial Operations

 

Senior Budget Analysts, Budget Analysts and Managers

 

Senior Cash Management Analysts

 

Senior Financial Analysts, Financial Analysts, and Financial Assurance Managers

 

Loan Officers

 

Internal Auditors

 

Revenue Cycle Managers

 
Contact us when you need expert help to build a stronger finance team for your organization.