5 Questions to Ask During Your Job Interview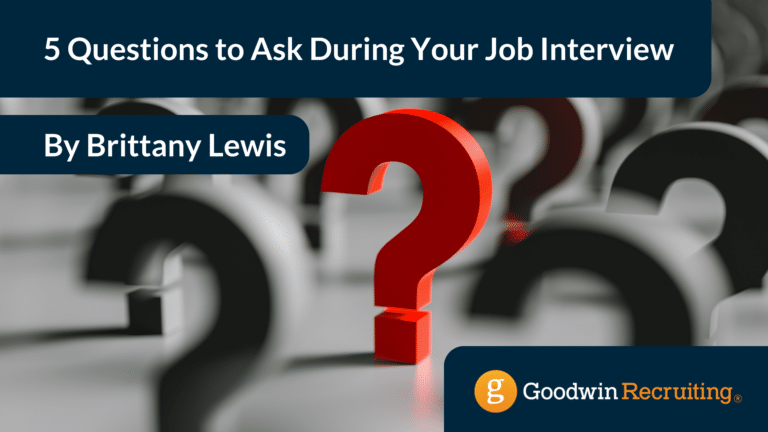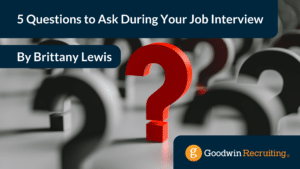 Let's assume you are in a job interview for a position that you are extremely excited about. First, congratulations on landing the interview! Now, imagine that your conversation with the hiring manager, HR director, or other company official is flowing smoothly and everything is going great. 
Then, toward the end of the interview, after key areas of discussion are covered and the meeting naturally draws to a close, the interviewer asks if you have any questions. This is a very good question. Are you ready for it? Don't let the opportunity slip away!  
Job interviews are a two-way street
In a real-life job interview, it's important to think about that final question from the interviewer before you get there. A lot of professionals don't realize it, but some of the best questions are asked by the job applicant! This is your opportunity to gain valuable insights into the company and position. Plus, asking smart questions lets you express growing interest in joining the company's team, and just as important, it shows that you have given the job and company a lot of advance consideration.  
So, be sure to have job interview questions of your own that go beyond the job description, day-to-day responsibilities, your experience and career path, and other facts about the new job.
Here are five interview questions you should consider asking the hiring manager during the interview process and why they are so valuable! 
1. "Why do you like working here?"

Asking your interviewer this question gives them an opportunity to talk about their own experiences. You both likely spent most of the job interview time talking about your own experiences and what's required of the job. What they say in response to your question tells you what they value most about their role and the company, and possibly about the company culture (which is increasingly important to today's job candidates). Whether you learn a little or a lot, every insight matters. Plus, your question demonstrates your interest in other people and your eagerness to learn. And if by chance the interviewer would be your superior in the new job, it will give you insights into the type of person they are and their management style.

2. "What are the biggest challenges this company is facing right now?"

By asking this question, you learn what keeps them up at night and what they're doing about it. Are industry changes causing disruption? Do they need new technologies or are they adopting and adapting to new IT solutions? Are they understaffed? Are competitors nipping at their heels? Are they experiencing growing pains or playing catch-up from a setback? This question gives you important insights into where the company stands, whether they have a strategy, plans, and initiatives in place to grow responsibly, and how your new role would fit into the big picture.

3. "What are your next steps in the job interview process?"

This is a great question that not only shows your interest in moving forward in their talent recruitment process, but it also helps you gauge where the company is in the hiring process for the role you are pursuing. You may potentially even get an estimated timeline of when they intend to start their new hire in the role. Again, job interviews are a two-way street. You are investing your time and interest in the company and you deserve to know how their process works.

4. "How do you define success in this role?"

If you want to know what the company truly prioritizes, ask this question! Your interviewer's answer tells you what is important to the company and allows you to decide if their priorities align with your personal and professional goals, as well as your own values and priorities.

5. "Do you have any concerns about my ability to successfully perform this role?"

Many job candidates are afraid to ask this question – but it's a great one. Some interviewers hesitate to volunteer this information to a job applicant and others readily and openly share it. Either way, interviewers are typically honest about any reservations they may have about a candidate during an interview. Asking this question gives you the chance to fill in the gaps with information that can lessen or reverse any objections they have and make them more confident in your ability to be successful in the role. Further, if the interviewer cites an area or skill where you need to grow, this will be instructive and help you become more marketable for this job or future positions.
Let us help you make the best impression
Goodwin Recruiting is much more than a talent recruiter. Our expert recruitment partners nationwide are great career coaches, helping our valued job candidates prepare for interviews and make sound job choices that align with their personal and professional goals. Asking the best questions during an interview is one of many interview tips we provide. Let us help you navigate the process and find success on your professional journey. 
Reach out to me directly and explore current job opportunities today!