Leading Sales Recruiters in Dallas
Build a high-performing sales team with experienced sales recruiters
Winning isn't a walk in the park. If your company isn't hiring top sales performers, it can be almost impossible to make significant financial gains. But with experienced sales recruiters on your side, you'll be one step ahead of the competition. Hiring skilled salespeople is crucial for the success of a business. Skilled sales professionals contribute significantly to revenue generation, customer satisfaction, and the overall growth of the company. Their expertise is particularly valuable in competitive markets where effective sales strategies can make a significant difference. 
Top performers can identify and capitalize on sales opportunities, resulting in increased revenue for the company. They build strong relationships with customers, which contributes to long-term satisfaction and loyalty. Top sales performers are often adept at finding creative solutions to challenges. From overcoming objections and addressing customer concerns to adapting to market changes. 
A skilled sales team contributes to a positive brand image. Customers are more likely to view the company favorably when they have positive interactions with knowledgeable and professional salespeople. They contribute to customer retention strategies and maximize the lifetime value of each customer. Skilled salespeople play a pivotal role in business. They help drive revenue, shape the brand image, and contribute to a business's overall success and growth. Their expertise is particularly valuable in competitive markets where effective sales strategies can make a significant difference. 
Hiring salespeople can be a challenging process. However, organizations can implement strategies that attract and retain top sales talent. Many are refining their recruitment processes, providing thorough onboarding, and fostering a positive company culture.  Sales headhunters understand the specific skills, traits, and qualifications needed for successful sales professionals. Build a higher-performing sales team with our experienced sales recruiters today! 
11 key traits to look for when hiring salespeople
Successful salespeople often possess a combination of personality traits that contribute to their effectiveness. They help build relationships, close deals, and navigate the challenges of the sales process. Here are key personality traits that our experienced sales recruiters often look for: 
Confidence:

A confident demeanor instills trust in customers and helps salespeople handle rejection without losing motivation.

 

Resilience & Persistence:

The ability to bounce back from rejection and setbacks is crucial in sales. Perseverance and tenacity often lead to success.

 

Adaptability:

Sales environments can change rapidly. Adaptability allows salespeople to adjust their approach to different situations and customer personalities.

 

Empathy:

Empathetic salespeople can connect with clients on a personal level, understanding their needs and concerns.

 

Optimism:

Maintaining a positive attitude, even in challenging situations, helps salespeople overcome obstacles and stay motivated.

 

Competitiveness:

A desire to win allows salespeople to set and achieve challenging goals, driving them to outperform competitors.

 

Communication Skills:

Clear and persuasive communication is crucial. It helps in conveying the value of a product or service and addressing customer concerns.

 

Curiosity:

A genuine curiosity about customers and their needs helps

to create custom solutions and deliver value.

 

Integrity:

Trust is the foundation of successful sales relationships. Salespeople with integrity build credibility and establish long-term connections with clients.

 

Goal Orientation:

A focus on achieving targets and goals drives salespeople to continuously improve and perform at their best.

 

Collaborative Spirit:

The ability to work well with colleagues and other departments. It contributes to a positive work environment and enhances the overall customer experience.

 
The specific mix of traits may vary depending on the industry, the type of sales, and the target market. When hiring salespeople, consider the specific requirements of the role and how well the candidate's personality aligns with those needs. 
Benefits of investing in expert sales recruiters
Sales recruiters often have specialized knowledge and experience in recruiting for sales roles. Working with us can benefit you in a few ways: 
Meet project deadlines

– Don't stress, we've got all the talent you need when time is short.

 

Focus on top priorities

– Recruiting can be time-consuming. Let us take care of it so you can get on with your day-to-day!

 

Reduce employee turnover

–

Hiring new employees can be more costly than keeping existing ones. We partner with your human resources team to figure out the best way to keep your current staff.

 

Improve team morale

- A high-performing team member can boost the confidence of the entire team.

 

Increase profitability

–

A skilled and capable employee can add value to the overall performance of the team. Leading to a boost in profitability.
Access our large talent pool of salespeople in Dallas
Dallas is a major economic hub with a diverse economy that includes finance, technology, healthcare, manufacturing, and more. The city's strong economic base can create opportunities for sales professionals across various sectors.  There's something for everyone in the city's culinary scene. They have traditional Tex-Mex meals or something a little more upscale. The city is home to some of the country's most vibrant cultural neighborhoods, such as the Arts District. Additionally, and with bias, it's also home to one of the best teams in the NFL. 
Dallas has a vibrant entrepreneurial scene with numerous startups and small businesses. Sales professionals looking for dynamic and fast-paced environments may find opportunities in the startup ecosystem. There are educational institutions and training programs in the area that focus on sales and business development. This contributes to a pool of skilled sales professionals in the region. 
Having access to a growing number of top sales performers ensures your business never misses a beat. At Goodwin Recruiting, we actively build and maintain relationships with clients and candidates. We can help you fill staffing gaps as they occur while staying ahead of the competition. 
Sales Professionals We Place
Sales Management

 

Account Managers

 

Account Executives

 

Sales Representatives

 

Sales engineering

 

Business development

 

Regional Sales Managers

 

Salespeople

 
Area Sales Managers

 

Customer relationship management

 

Chief Revenue Officers

 

Sales Coordinators

 

Customer success

 

Vice presidents

 

Brand ambassadors

 

Sales Operations Managers

 
Store managers

 

Shop assistants

 

Team Leaders

 

Branch managers

 

Directors of Sales

 

Sales Specialists

 

Account Representatives

 

National Sales Managers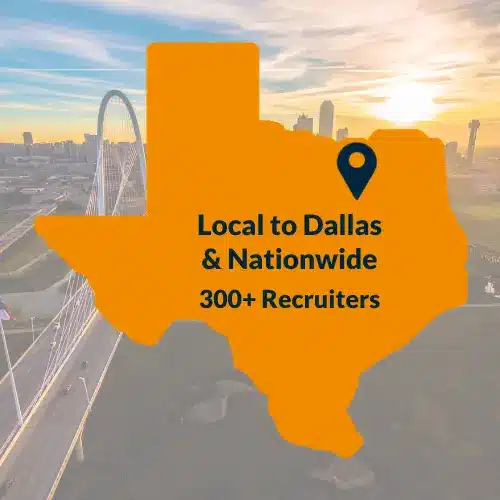 We Also Specialize in the Following Areas
around Dallas
Goodwin Recruiting is here to help you find the right person for your position. Our mission is to get to know your business and your goals. We'll help you showcase your company's culture and values to attract the best IT talent. We fill all levels of positions including sales specialists, brand ambassadors, team leaders, sales coordinators, and account executives. All our candidates have excellent technical skills and will be well-suited to the culture of your team. 
Our sales recruiters have a combined 50+ years of experience in the field. They have a deep insight into what it takes to be successful in sales. That's what makes us different from other recruiters in Texas. We know what to look for when it comes to building a great sales team. When you need to hire, we've got you covered.