Leading Legal Recruiters in Dallas
Protect your interests with experienced legal recruiters
The legal industry is subject to changes influenced by societal, technological, and regulatory developments. Hiring legal experts is crucial for obtaining informed advice, navigating legal complexities, protecting rights, and ensuring compliance with the law. Legal expertise is an invaluable resource in every business or organization. Our experienced legal recruiters can offer sound advice on building an informed and compliant team.   
Legal professionals are also becoming increasingly involved in advising organizations on ESG matters, including compliance with environmental and social regulations, sustainability, and corporate governance. Furthermore, there is a growing emphasis on fostering diversity, equity, and inclusion in the legal profession. Organizations are implementing initiatives to address disparities and promote a more inclusive work environment. 
Aside from external factors, the legal industry is also influenced internally. There is a big focus on improving legal operations. This involves the strategic management of legal departments to improve efficiency and reduce costs. After the pandemic, virtual law practices, online court proceedings, and the use of collaboration tools have become more common. 
Organizations are investing heavily in skilled professionals, project management methodologies, technology solutions, and process improvements. The integration of technology in the legal sector continues to be a major trend. To help with tasks like document review and contract analysis. AI is also helpful with the development of legal practice management software and tools to enhance efficiency. 
The legal industry is a diverse and dynamic field that encompasses various sectors and roles. There are ongoing changes in laws and regulations impacting the legal landscape. Legal professionals need to stay informed about these changes to provide accurate and up-to-date advice. 
Losing out on skilled legal professionals could be detrimental to your organization. If you want to make sure your interests stay protected, get in touch with our experienced legal recruiters! 
11 essential skills to look for when hiring legal experts for your team
Legal experts need to possess a combination of legal knowledge, practical skills, and unique personal qualities. Here are some key skills that our experienced legal recruiters look for: 
Legal Knowledge:

A strong foundation in legal principles, statutes, case law, and legal procedures. Continuous learning and staying updated on changes in the law are essential.

 

Analytical Skills:

Legal experts need to analyze complex legal issues, identify relevant information, and draw logical conclusions. 

 

Research Skills:

Legal professionals must be adept at legal research, utilizing various legal databases, libraries, and other resources to gather information and support their arguments.

 

Communication Skills:

Clear and effective communication is essential for legal experts. 

 

Negotiation Skills:

Many legal experts engage in negotiations to reach settlements or agreements. 

 

Problem-Solving Abilities:

Legal professionals often deal with complex legal issues and disputes. They may need to develop effective legal strategies and find resolutions.

 

Ethical Judgment:

Ethical considerations play a crucial role in the legal field. Legal experts must adhere to high ethical standards, maintain integrity, and uphold principles.

 

Attention to Detail:

Precision is vital in the legal profession. Legal experts must pay close attention to details when drafting legal documents, reviewing contracts, or preparing for litigation.

 

Adaptability:

The legal landscape can change, and cases may present unexpected challenges. Legal experts should be adaptable, able to handle unexpected developments and adjust strategies accordingly.

 

Advocacy Skills:

Especially for litigators. This involves the ability to persuasively present arguments, cross-examine witnesses, and handle courtroom procedures.

 

Cultural Competence:

In an increasingly diverse world, legal experts benefit from cultural competence, understanding and respecting the cultural backgrounds and perspectives of clients and colleagues.

 
These skills, combined with a commitment to professional development and a passion for law, contribute to the success of the best legal experts in their respective fields. 
The Benefits of Investing in Experiened Legal Recruiters
Recruiting with experienced attorney recruiters can provide a variety of advantages. The following are some we can offer: 
Meet project deadlines

–

When time is limited, we can connect you with candidates quickly.

 

Focus on top priorities

– Scheduling multiple interviews can be time-consuming. Especially getting through the entire hiring process. Let us take care of it so you can focus on your business.

 

Reduce employee turnover

– Hiring is more expensive than retention. We partner with your human resources team to develop strategies to retain your top talent.

 

Improve team morale

-

We ensure candidates are well-qualified and well-suited to the culture of your business.

 

Increase profitability

–

The right person in the right seat leads to a better work environment. And this leads to boosts in profits.

 
Access our talent pool of legal experts in Dallas
Dallas is one of the best cities to live and work in. It's a hub for banking, shopping, telecoms, tech, and energy. Plus, it's got one of the top teams in the NFL, if you don't mind our bias. 
This city also has something for everyone when it comes to food! From classic Tex-Mex to fancy restaurants, there's something for all. Plus, it's got some of the most vibrant cultural districts in the US, like the Arts District. 
Dallas is a dynamic city with a wealth of business, cultural, sports, and entertainment opportunities. Employers in the Dallas area benefit from a diverse and highly educated regional population. Seventy-five percent of Dallas residents are of working age, making it one of the nation's largest working-age populations. The city's civilian labor force size is 4 million, only behind Chicago, LA, and New York City. That means legal talent is abundant in the area. 
We've built strong relationships with experienced legal professionals across the Dallas-Fort Worth-Irving-Arlington-Plano-Garland market. When you hire with us, you get access to a growing network of legal candidates. This means you'll be able to fill in any gaps in your organization. 
Legal Professionals We Place
Paralegals

Lawyers

 

Labor lawyers

 

Legal secretaries

 

Law clerks

 

Associate attorneys

 

General counsels

 

Judges

 
Associate General Counsels

 

Corporate lawyers

 

Patent attorneys

 

Chief compliance officers

 

Regulatory compliance

 

Clerks

 

Advocates

 

Legal analysts

 
Litigation Associates

 

Magistrates

 

Legal administrators

 

Information technology management

 

Legal Interns

 

Consultants

 

Litigation Paralegals

 

Case Managers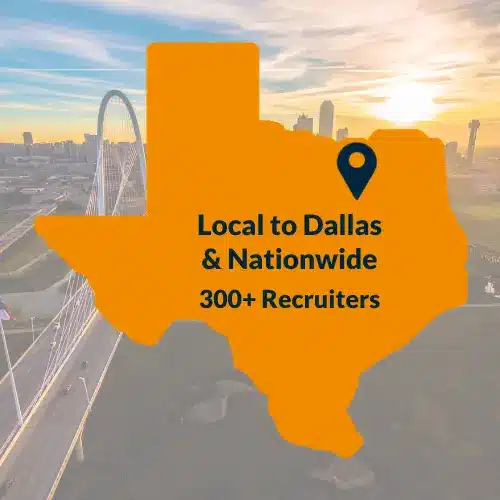 We Also Specialize in the Following Areas
around Dallas
At Goodwin Recruiting, we're all about connecting with clients and finding the right people for the job. We're passionate about understanding our clients' needs and wants. Our goal is to help you show off your company's values and perks to get the best marketers. We fill all levels of positions including in-house General Counsels, Compliance Professionals, Law Partners, Paralegals, Attorneys, and more. All our candidates possess a high level of technical proficiency and are culturally compatible with your organization. When the time comes to recruit, our legal recruiters are here to help. 
We have assisted in the recruitment of legal professionals for local law firms, law faculties, and national firms. Our team of recruiters has over 50+ years of experience in the legal industry. Our combination of real-world experience and recruiting experience sets us apart from other Texas recruiters.