Leading Healthcare Recruiters in Dallas
Invest in experienced healthcare recruiters to help promote exceptional patient experiences
Hiring healthcare workers can present unique challenges and pain points due to the specific nature of the healthcare industry. Addressing these pain points requires strategic recruitment efforts. It's essential to adopt innovative hiring and retention strategies tailored to the unique needs of the healthcare workforce. Doing so will help build and maintain a strong and resilient healthcare team. This is where our healthcare recruiters can help! 
The healthcare industry often faces a high demand for skilled professionals, leading to shortages in certain specialties and regions. Healthcare employers, including hospitals, clinics, and other facilities, often compete for a limited pool of qualified candidates. Attracting and retaining skilled healthcare professionals can be challenging as well. Healthcare workers, particularly in high-stress roles, may experience burnout. Long working hours, shift work, and demanding schedules lead to higher turnover rates.  
Dallas has a very diverse and educated population. However, ensuring diversity, equity, and inclusion (DEI) in the healthcare workforce can be a challenge. This requires deliberate efforts in recruitment strategies. DEI is a crucial consideration in the healthcare industry. It is big in contributing to a more effective, compassionate, and responsive healthcare system. By embracing DEI, healthcare institutions can enhance patient care, foster innovation, and build a more resilient and inclusive healthcare ecosystem. 
Caring specialists are needed in clinics, hospitals, labs, and at the patient's bedside. True healthcare professionals prioritize the needs of patients. Our recruiters have helped fill positions in nursing, therapy, and administration. We've also helped recruit Allied Health and operations professionals such as physicians and advanced practice providers. 
Failing to recruit the right healthcare talent can be detrimental. It can affect your patients, your staff, and your organization's reputation. Start adopting innovative hiring and retention strategies with the help of our experienced healthcare recruiters! 
10 essential skills to look for when hiring healthcare professionals
Healthcare workers play a crucial role in providing medical care and support to patients. The healthcare industry encompasses a wide range of professions, each requiring specific skills. Here are some of the top skills that our healthcare recruiters often look for: 
Clinical Skills:

Having a good grasp of medical concepts, diseases, cures, and drugs related to their area of expertise. Being able to recognize symptoms, order tests, and accurately diagnose.

 

Patient Care and Bedside Manner:

The ability to empathize with and relate to patients. Compassionate care. Effective communication. Emotional support for patients and their families.

 

Communication Skills:

Effective communication and active listening to understand patients' concerns and communicate effectively with the healthcare team.

 

Critical Thinking:

Complex analysis, decision-making, and problem-solving skills. Knowing how to make smart, timely decisions based on facts and figures.

 

Attention to Detail:

Attention to detail is critical in administering medications, recording patient information, and conducting medical procedures.

 

Criss Management & Adaptability:

Be able to keep up with changes in healthcare practices, tech, and patient requirements. Be able to stay cool and confident during emergencies and crises.

 

Ethical Conduct & Professionalism:

Holding oneself to the highest ethical standards, keeping patients' information confidential, and being honest in all interactions. 

 

Organizational Skills:

Efficiently managing time and prioritizing tasks to ensure the delivery of timely and effective care. Balancing multiple responsibilities and tasks, especially in fast-paced healthcare settings.

 

Cultural Competence:

Cultural sensitivity to deliver patient-oriented care. Communicating effectively with patients from different cultural backgrounds.

 

Leadership Skills:

Administrators and managers need effective leadership skills to oversee and manage healthcare facilities.

 
These skills are essential across various healthcare professions, including doctors, nurses, therapists, technicians, administrators, and support staff. Healthcare requires professionals who are knowledgeable and possess strong interpersonal and problem-solving skills to deliver high-quality patient care. 
The Benefits of Using Expert Healthcare Recruiters
There are many advantages to partnering with experienced healthcare recruiters. Here are a few: 
Meet project deadlines

–

You can rest assured that we will have candidates on hand when the time comes.

 

Focus on top priorities

– It takes a lot of time and energy to manage the entire hiring process. You focus on your day-to-day tasks. We'll handle recruiting. 

 

Reduce employee turnover

– Companies spend more to hire than to retain. We'll partner with your HR to come up with retention plans.

 

Improve team morale

- We make sure candidates have the right qualifications and fit in with your company culture.

 

Increase profitability

– Having the right person in the right job has proven to make a profitable difference.

 
Access our talent pool of healthcare workers in Dallas
Dallas is home to several major academic and research institutions, including medical schools, nursing programs, and research hospitals. These institutions contribute to a skilled and educated healthcare workforce. The city is also known for its specialized healthcare facilities, including cancer centers, heart hospitals, and specialty clinics. This leads to a workforce with expertise in various medical specialties. 
Dallas is a hub for healthcare services, with a diverse and dynamic healthcare workforce. The city has a strong presence of healthcare administrators, managers, and executives. Its diverse workforce includes professionals who can address the cultural and linguistic needs of patients from various backgrounds.   
Build a strong, resilient healthcare team by connecting with our growing network of compassionate healthcare professionals. Our healthcare recruiters actively build connections with qualified candidates so you can quickly find staff.  
Healthcare Professionals We Place
Physical Therapists 

 

Rehabilitation Managers 

 

Physicians 

 

Healthcare Administrators 

 

Directors of Food Services 

 

Dietary Managers 

 

Registered Dieticians 

 

Pharmacists Account Management

 

BCBA's

 
Therapists/ Counselors

 

Medical Directors 

 

Chief Nursing Officers 

 

Nurse Practitioners 

 

Registered Nurses 

 

Licensed Practical Nurses 

 

Nurse Managers 

 

Occupational Therapists

 
Clinical/ Lab

 

Human Resources

 

Operations

 

Patient Care

 

Program Services

 

Psychiatric

 

Psychotherapists

 

Quality Assurance/ Quality Control

 

Regulatory Affairs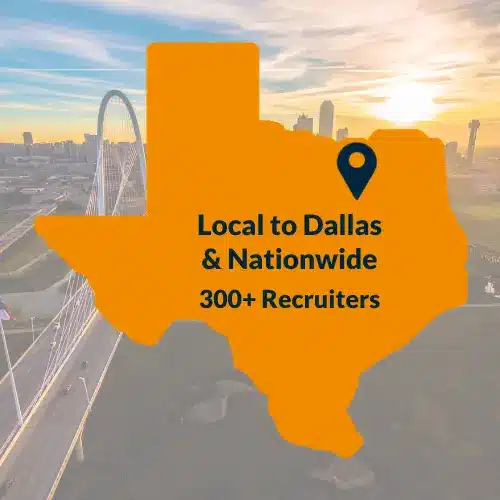 We Also Specialize in the Following Areas
around Dallas
Goodwin Recruiting is all about connecting with our clients and helping them find the perfect match for their team. Our legal recruiters enjoy getting to know our clients and what they're looking for. They help you showcase your institutional culture and benefits so you can get the best educational leaders. We've filled all levels of positions. If you need RNs, CNAs, LVNs, LPNs, administrative staff, or Allied professionals, we have you covered. All our candidates are well-qualified and culturally diverse. 
Our healthcare recruiters have 50+ years of combined experience in the healthcare industry. They bring a unique combination of real-world healthcare and recruiting experience. That's what sets us apart from other Texas recruiting agencies. When it's time to hire, we're here to help.