Forbes Recognizes Goodwin Recruiting as One of America's Best Executive and Professional Recruiting Firms of 2022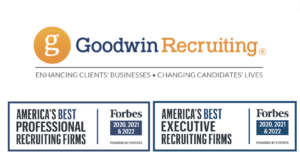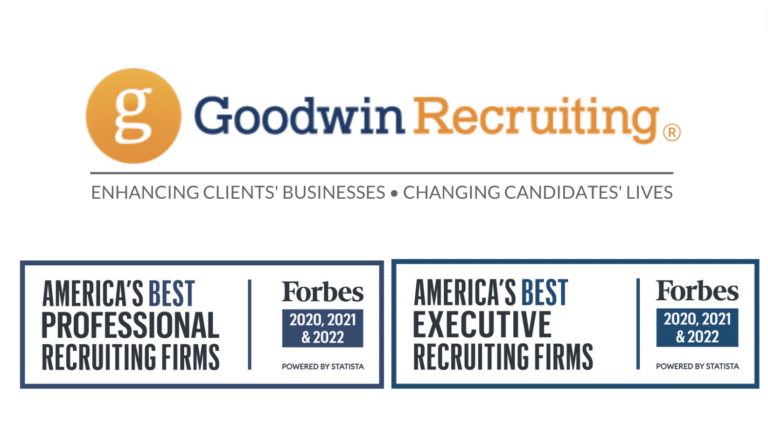 FOR IMMEDIATE RELEASE  
Goodwin Recruiting Recognized as a
Forbes Best Executive and Professional Recruiting Firm for 2022.
The New Hampshire based recruiting firm has received this
prestigious recognition for three years in a row.
Manchester, NH (June 1, 2022) – Forbes and Statista have partnered to determine the best recruiting companies of 2022. They conducted surveys of over 30,000 recruiters, candidates, and hiring managers with in-depth knowledge and experience of the recruiting industry. Goodwin Recruiting is honored to have been selected and recognized among America's Best Executive Recruiting Firms, as well as America's Best Professional Recruiting Firms for the third year in a row.  
"We are grateful for this award," said Eric Goodwin, President and Founder of Goodwin Recruiting. "I want to thank my wonderful recruiting team for all their passion and high-quality work, every day. We will continue to work hard on behalf of our clients and candidates, to always look to improve and be better and better every year." 
Goodwin Recruiting had a strong year helping clients fill their management, executive, and operational positions. "These past few years have been incredible and very rewarding!" said Scott Gaba, Chief Operating Officer at Goodwin Recruiting. "We've had the opportunity to build our team and our client base and work with some of the best companies out there. It's very fulfilling to help enhance so many of our outstanding clients' businesses and to change so many of our candidates' lives. I am so proud of our team of recruiting partners and the dedication and excellence they provide to our clients and candidates day in and day out."
About Goodwin Recruiting  
Goodwin Recruiting is a leading recruitment company and job search agency, driven to enhance clients' businesses & change candidates' lives. They provide recruiting for hospitality, executive search, financial services, healthcare, industrial, office & administration, professional services, and senior living, helping with management, operations, HR, corporate roles, and more. Goodwin Recruiting gets to know their clients' businesses inside and out in order to identify talented candidates with the right skills, personalities, and cultural alignment to succeed. When it comes to candidates, they provide that same level of attention, with a focus on the candidates' goals, preferences, skills, and challenges. Goodwin Recruiting's success stems from this foundation of personalized attention.
Contact: 
Jenny Battershell 
Director of Marketing 
216.208.5767 
Jbattershell@goodwinrecruiting.com