Forbes Announces Goodwin Recruiting as One of America's Best Executive and Professional Recruiting Firms of 2021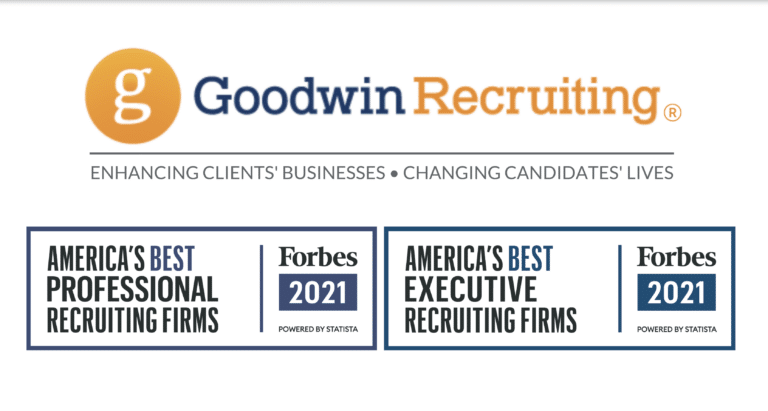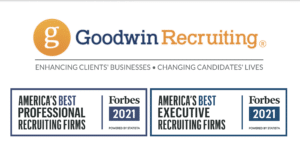 FOR IMMEDIATE RELEASE  
Forbes Announces Goodwin Recruiting as One of America's Best Executive and Professional Recruiting Firms of 2021  
The New Hampshire based firm has received this prestigious recognition for the second consecutive year 
Manchester, N.H., (May 20, 2021)— Once again, Forbes and Statista have partnered to honor the top recruiting firms in the nation. To determine the companies who have achieved a mention on this list, the pair conducts surveys of HR and hiring managers, external recruiters, and candidates between December of 2020 and January of 2021. Recommendations from participants are then carefully reviewed, and the top 250 firms are selected. Goodwin Recruiting is honored to have been recognized among America's Best Executive Recruiting Firms, as well as America's Best Professional Search Firm's for the second year in a row. 
"Goodwin Recruiting is excited to once again be listed among the best of the best in our industry. This past year has been hard on everyone; our clients, our partners, and our candidates included. However, I'm extremely proud of our team and how they showed up with their best every day and pressed on," said Eric Goodwin, founder and owner of Goodwin Recruiting. "Goodwin Recruiting remains committed to being high-value partners to our clients and our candidates, and we're thrilled to be recognized for that passion." 
Additionally, Goodwin Recruiting was recognized on the list of the top 200 Executive Recruiting Firms in the nation. Goodwin Recruiting was founded in the hospitality space, but after becoming a leader in identifying top talent to solve business challenges in hospitality, the firm has expanded its offerings. Scott Gaba, COO, says, "Our recruiting partners were already connecting with talented leaders each day. Between their networks and the partnership with clients we've established over time, diving into the executive recruiting space was a natural progression. We are thrilled to be able to offer these services to our new and existing clients and continue to help build strong leadership teams for organizations of all sizes." 
Goodwin Recruiting has been in the recruitment services industry for over two decades and continues to experience growth year over year. Because of the Goodwin Recruiting business model, the company has brought on many niches, expert recruiting partners, allowing expansion across a wide array of industries and job functions over the past decade. In addition, Goodwin's unique positioning and focus on Core Values allow the team to develop personal connections and congruent relationships with each client and candidate they work with. These connections consistently place Goodwin among the best in the business.   
Forbes Best Executive Recruiting Firms 
Forbes Best Professional Recruiting Firms 
Contact: 
Lisa Dyson 
513.404.6302 
Lisa@okeeffepr.com 
About Goodwin Recruiting 
Goodwin Recruiting is a full-service recruiting agency. Founded for the service/ hospitality industry, the company has grown to serve a broad range of industries and specialties. Goodwin Recruiting is committed to providing highly personalized services, tailored to each candidate and client. Across all business types, from executives to operators and managers, each Goodwin Recruiting partner has an extensive background in his or her field of expertise. The company's expansive knowledge of the industries in which it works, combined with its comprehensive experience recruiting top talent, allows Goodwin Recruiting to establish game-changing partnerships with employers and job seekers alike.
###