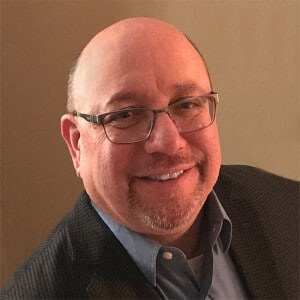 Recruiting is a great match for my background. I love helping people! It's great to know that I can positively impact someone's career progression, all while assisting a company in growing and achieving its goals. Although most of my background has been in Hotel/Restaurant/Hospitality, I also enjoy recruiting in other industries, including Building Management, Retail, Sales, and Manufacturing.
Larry Chesner joined Goodwin Recruiting in March 2017 after a long career in Hospitality. Much of Larry's career was with Interstate Hotels, where he started in F&B, then migrated to rooms operations and General Manager. He helped open several full-service properties during his tenure and worked in cities like Boston, Providence, Corpus Christi, Cincinnati, Philadelphia, and Grand Rapids, MI. Larry's experience included working for several iconic brands like Marriott, Hilton, Holiday Inn, Wyndham, and some independents.
Larry grew up in Colonia, NJ, and attended Johnson and Wales University in Providence, RI, where he earned an Associate's in Culinary Arts and a Bachelor's in Food Service Administration.
Larry has been married to Cherie since 1997. They have two daughters, Sam and Sarah, and their dog Charlie. Larry is a foodie at heart as he loves to cook and learn about food and wine. He teaches kids cooking classes at the local YMCA and is continually active in the community. He enjoys the outdoors, fishing (crabbing when he gets back to NJ for visits), hiking, kayaking, and camping. Larry's favorite nonprofit is "Give Kids the World."
- Executive Search Client
"Honest in their approach"
- Financial Candidate
"One of the BEST experiences I have had"
- Hospitality Candidate
"Rapid delivery of candidates"
- Hospitality Client