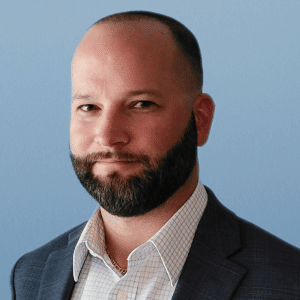 Successful recruiters can help to identify your needs and really understand your business and management style, which helps in finding you the right candidates. Knowing your concept, visiting it, and seeing how it operates are a few ways that Chris Allen has been successful in building congruent relationships with his clients. Chris really enjoys building those relationships and supporting his clients' success. As a Hospitality recruiter, he uses his skills to form strong connections with his clients and candidates, yielding long-term, successful placements.
With 20 years in the restaurant industry and education in Hospitality Business Management, Chris brings a lot of experience to the table. Out of his 12 years in management, seven were spent as a General Manager. He has worked with large upscale companies such as Ruth's Chris and Landry's and has been involved in multiple openings including the Golden Nugget Casino in Atlantic City.
In 2021, Chris joined the Goodwin team as a Recruiting Partner. He has close relationships with his clients in the South Florida, Maryland, and North Carolina markets. His clients include large multi-concept companies, small family-owned businesses, bars and nightclubs, and country clubs. Chris lives in the South Florida market and visits his local clients regularly. He was able to secure seven clients in his first five months with the Goodwin team.
Outside the office, Chris spends time at the park or the beach with his terrier mix rescued from Puerto Rico. He enjoys getting out for a round of golf or relaxing with a nice cigar and a rum & coke. You might find Chris working on his car when he isn't behind his desk. He also enjoys visiting family and clients in Maryland whenever he gets the chance.
- Executive Search Client
"Honest in their approach"
- Financial Candidate
"One of the BEST experiences I have had"
- Hospitality Candidate
"Rapid delivery of candidates"
- Hospitality Client