8 Ways to Create an Inclusive LGBTQIAA+ Workplace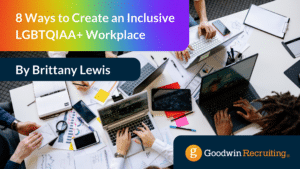 Company leaders and our society in general learn more each day about important considerations surrounding employee gender identity, pronouns, sexual orientation, and more. We are also learning how inclusive language, human resource diversity and inclusion policies, employee resource groups, and a more inclusive workplace culture are driving healthier, more welcoming and inclusive environments among today's workforces.  
In honor of Pride Month in June, here are some ways your organization can start creating or improving an inclusive working environment year-round for members of the LGBTQIAA+ community.  
1. Have specific DEI programs in place
Don't wait until unconscious bias or a problem arises among team members to implement specific diversity, equity, and inclusion (DEI) programs. A volunteer-based DEI council is a great way to openly discuss problems, solutions, ideas, and resources to increase diversity, equity, and inclusion. These meetings are best to occur on company time and there should be designated systems in place to gather feedback from other members of your organization, as well as open forums where everyone has a chance to contribute.
2. Use inclusive language by default
Avoid phrases like "ladies and gentlemen" when addressing groups of people in the workplace. Instead, try addressing people in a gender neutral way (for example: team, all, or friends). When referring to personal relationships, use words such as "partner" as opposed to "husband" or "wife" in order to avoid wrongful assumptions. Also, avoid asking people which terms they prefer. Doing so implies that who they identify with is a preference or choice. Simply ask which terms they use to identify themselves and use those terms without question (she, her, hers, he, him, his, they, them, theirs).
3. Remove gender-specific dress code policies
Appropriate dress in a workplace is important; however, it doesn't require gender-specific wording. If dresses, pants, makeup, and jewelry are allowed, they need to be allowed for anyone who wishes to wear them. Any dress code-related expectations should apply equally to everyone in the organization and not be determined by gender identity.
4. Consider offering a single-stall restroom option
Offering a single-stall restroom option for anyone to use is a great step toward an inclusive restroom policy. Many workplaces have a designated men's restroom and a designated women's restroom, and allow people to use these as they identify. The single-stall restroom offers an additional option for individuals who do not identify as either of these two genders, or who simply prefer to use a more private restroom.
5. Make sure your health insurance plan is inclusive
Audit your insurance plan's offerings. Are they LGBTQIAA+ friendly? Do you offer queer-friendly family planning assistance? Are domestic partners given the same coverage options as married couples? Does your health plan support employees who may be transitioning, now or in the future? If not, now is a great time to explore other insurance options. For example, ensure policies provide for medications related to the LGBTQ+ community, such as PrEP, since some states are not requiring coverage now for certain medications. 
6. Don't put the burden of education on the individual
Simply put, it is not the responsibility of a transgender, lesbian, bisexual, or any other LGBTQIAA+ member or other team members to educate your workforce on being inclusive. If you are relying on these individuals to do so, you are adding more work to their day and job description that are not their responsibility, and not compensating them for it. This can inadvertently create a mental and emotional stress for their position professionally and socially with the company.
That said, if someone comes to you with ideas and places to improve, take the time to hear them out and ask for suggestions on the types of education they feel would be beneficial for the company's working environment. Include LGBTQIAA+ education in all non-discrimination training programs and policies. Well-rounded diversity training is becoming very common in today's inclusive workplaces, and it is helping to attract top talent and improve employee retention.
7. Provide personal pronouns
In your effort to not assume an individual's personal pronouns, create a safe platform either internally or publicly where people can voluntarily share their pronoun. Ask everyone in your organization to provide theirs, if they are comfortable doing so. If pronouns are included for every individual, people in your organization will become accustomed to checking that of each person and less likely to use pronouns incorrectly. Additionally, it does not put the burden of being an 'exception' on anyone, as everyone will have their pronouns listed in the same way. This is a simple way to show support and validation.
8. There's always room for improvement
Many members of the LGBTQIAA+ community hesitate to advocate for themselves because they or others have faced backlash for doing so in the past. It's important in human resource management to take the initiative and put inclusive policies in place to support every individual in your company, even if no one has brought these important considerations to your attention.  
Take the challenge
This Pride Month, I challenge you to make changes or enhance policies and programs to support yearlong inclusion of LGBTQIAA+ individuals in your workplace. It's good for your people – and good for your business! 
At Goodwin Recruiting, we practice what we preach. In fact, we added "Dedicated to Diversity, Equity, and Inclusion" to our company's core values several years ago. If you need top talent for a key role at your company, or you're a professional preparing for a career move, get in touch with us today. We're ready to help take your company or career to the next level.