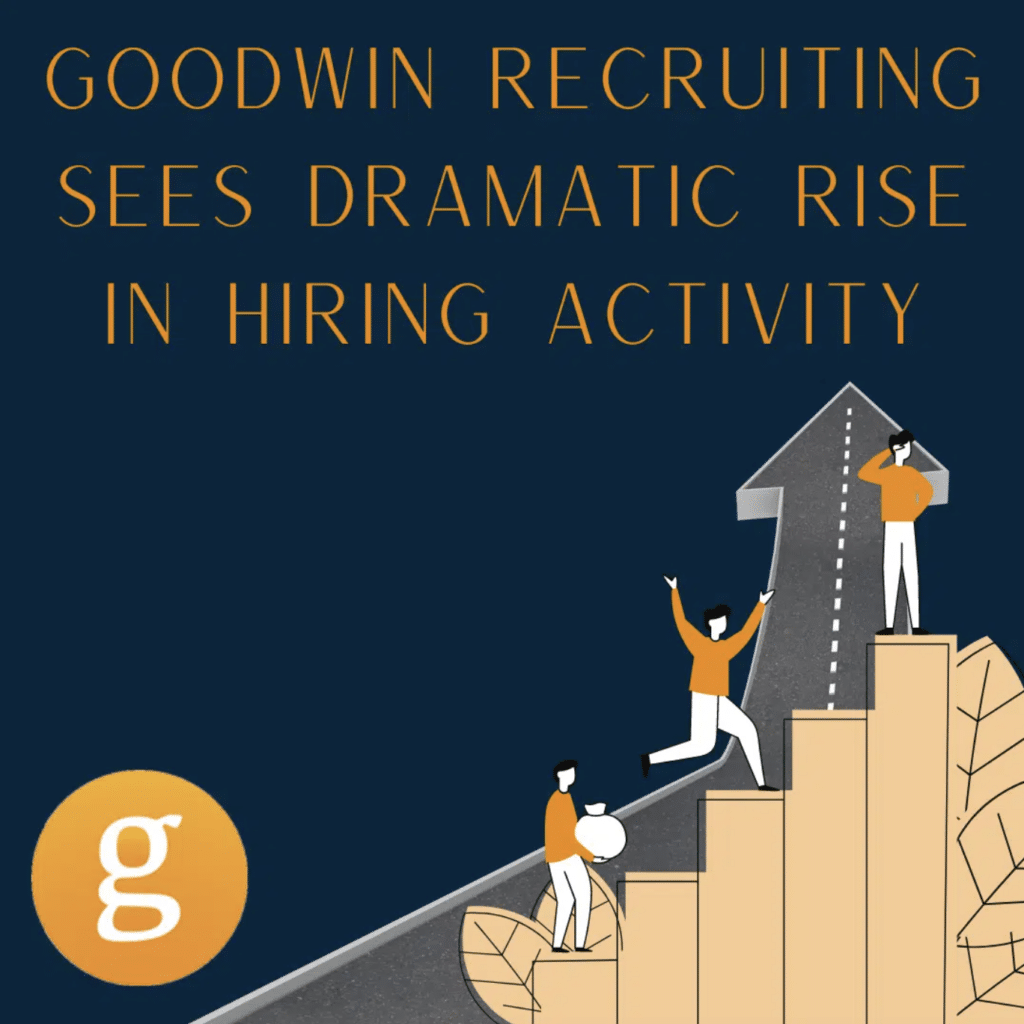 It's hard to believe we are nearly halfway through 2021, but for most organizations and professionals, the greater the distance from 2020, the better! From our vantage point at Goodwin Recruiting, the mid-year mark approaches with excellent news on the hiring and jobs front.  
From the first of January through mid-May of this year, our open jobs and candidate placements have rapidly increased. We have every reason to believe the bustling activity on behalf of our clients and candidates indicates that the United States is on a solid path to a jobs recovery.  
Early May also came with the welcome news that Goodwin Recruiting made the Forbes Best Executive Recruiting Firms and Best Professional Recruiting Firms lists, representing firms that specialize in filling positions with salaries of at least $100,000 and less than $100,000, respectively. We genuinely thank our clients and talented candidates for partnering with us, entrusting your hiring goals to our recruiters, and enabling us to achieve this recognition! 
Job growth started early…and has not stopped 
Since January, Goodwin Recruiting has experienced month-over-month growth in new job searches and placements compared to the same timeframe in 2020. As a benchmark, we compared our current number of open jobs to January of 2020 and found that our clients have increased hiring by 44% since that time, the majority of which has transpired this year.  
A deeper dive into the numbers provides finer insights into the growth we are seeing. 
Escalation during the 18 weeks from Jan. 1 to May 10, 2021 –  


c

ompared to the same period 

in 2020:
39% increase

in the number of candidates we have vetted, interviewed, and presented to our clients as great matches for their open positions  

 
57% increase

in the number of candidates our clients have invited to interview for their available jobs

 
61% increase

in the number of Goodwin candidates hired by our clients

 
"This is strong evidence of a jobs rebound, and we are very encouraged that companies are building and refortifying their teams in 2021," said Goodwin Recruiting Chief Operating Officer Scott Gaba. "Although U.S. job growth reports continue to ebb and flow, we are confident in the positive signs we are seeing and ready to meet market demand. Our 20+ years of experience, expansive candidate network, and access to passive job seekers ensure that our clients and candidates have access to a nimble, connected hiring solution in the critical months ahead." 
Demand for talent is occurring across industries
Striking increases in demand represent job searches and placements among existing and new clients at Goodwin Recruiting. Open jobs range from manager to executive-level positions, and hiring is intensifying across multiple sectors, from Hospitality to Manufacturing, Engineering, Sales, Marketing, Human Resources, Senior Living, Health Care, and more.  
While some organizations, in fact, entire market segments, are struggling to fill talent gaps, operational transformations imposed by the pandemic have given rise to all-new jobs as well. In a recent interview with the New York Post, Goodwin's New York Regional Director of Recruiting Alan McArthur spoke to this evolution in the Hospitality industry. 
"Restaurants are open to a variety of backgrounds and skills that might not have gotten them in the door in the past," he said. "We're seeing many new jobs emerge. Some restaurant groups are hiring safety advisers, increasing their safety and sanitation protocols inside their buildings, as well as hiring external cleaning companies." 
The pandemic has forced organizations far and wide to transform operations to respond to new consumer shopping and buying behaviors, meet growing IT and data security requirements, and protect and increase revenue through company-wide innovation. It's a whole new world out there!   
We're ready to equip you for the future…today 
Companies need agile, experienced talent to reach their strategic goals in today's evolving business climate. And professionals need access to hiring companies where they can grow as individuals and strategically advance their careers.  
Goodwin Recruiting is always on task, sourcing the right and best talent for our clients' unique roles, and leading our valuable candidates to their ideal jobs. Reach out to us at any time. We're ready to help you meet your essential hiring goals.